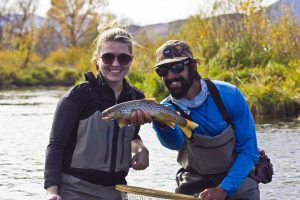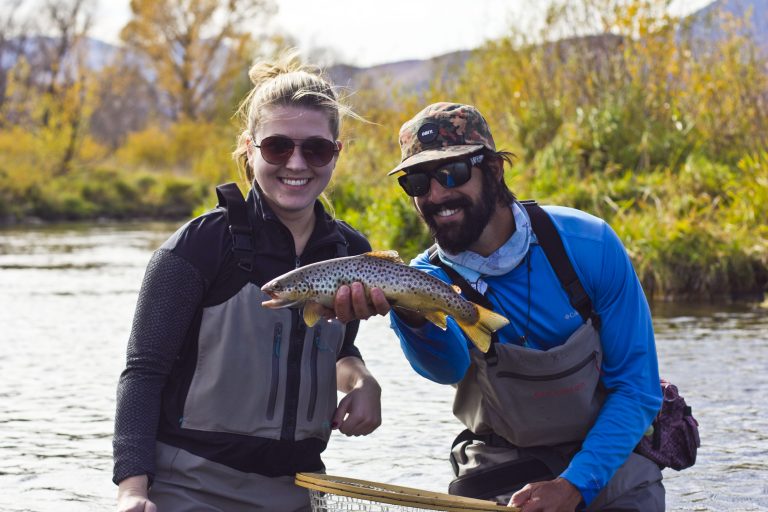 Despite the fact that the Provo river attracts the majority of the attention, the Weber is a hidden gem, providing ample opportunities of hooking into and landing large trout. Fly Fishing on the Weber river with a guide has proven to be not only a great place to learn or improve your techniques, it is productive when it comes to fighting trout. This tributary of the Great Salt Lake is considered a blue ribbon fishery, a designation appointed by the US government for fisheries of extremely high quality. In addition, the scenery and tranquil setting make fly fishing on this river a must.
Fly fishers will most often catch brown trout or mountain whitefish, but the occasional rainbow and the rare Bonneville cutthroat are always a delight. Bonneville cutthroat are native to tributaries of the Great Salt Lake, being found primarily in Utah it has been designated the state fish, a truly unique catch! While it is true that you may catch more fish on the Provo, you catch larger browns more regularly on the Weber, and who doesn't love that big fish story? Even if it is your first attempt at fly fishing, this river has proven to produce!
While nymph fishing is the most productive technique, both dry fly fishing and streamers can produce throughout the year. During the summer months, popular nymphing patterns can consist of Pale Morning Duns, caddis, midges and sow bugs. If dry fly fishing is what you seek, big hoppers or an evening caddis hatch can be a blast! If it is a trophy brown in that 20+ inch category, patiently working the banks with a streamer will be your best option.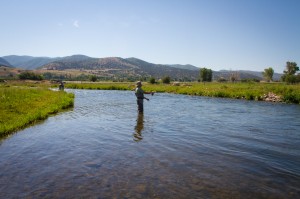 Utah is an extremely diverse state. From the red canyons of The Mighty Five National Parks located in the southern part of the state to the towering snow capped peaks of the Uinta and Wasatch mountains of Northern Utah. The Weber River headwaters start as snow melts off 13,000 foot peaks, before the water is held for agricultural use in a number of reservoirs. These productive tail waters flow through idyllic farm and ranch land and then into a tight canyon with interesting geological features like the Devil's Slide.
All Seasons Adventures has been taking out first timers to the avid angler for the past 17 years. We offer half day and full day guided fishing trips that are fully customizable. Our skilled guides take out the guess work with proper instruction and tips for the experienced angler . Give us a call to set up a reservation and we take care of the rest. Your guide will arrive at your lodging with everything you'll need for the outing. The half day is the most popular and you can expect around 4 hours on the water. We look forward to getting you out fly fishing on the Weber River!