Park City Guided Hikes
Park City, Utah has long been a world class outdoor destination and we would love to show you why. We offer a variety of hikes throughout Park City, in the wild Uinta Range, and south of town at Sundance Resort. Whether you are interested in learning local mining history, getting a workout, or taking a scenic chair lift ride with a leisurely stroll, we have you covered. We also offer birding tours, learn to bird or seek out a specific species!
When it comes to Park City hiking, there are a variety of trails for all skill levels. Please check with us to discuss options for your local hike. If you are interested in getting out of Park City, the Uinta Mountains or Sundance Resort may be just what you're looking for. All of our hikes include guide(s), transportation from anywhere in Park City, snacks and drinks.  See below for descpritions on all hikes we have to offer.
Northern Utah is a hiker's paradise, so relax and let us take care of the details. The hardest decision you'll have is choosing between our local, Uinta, or Sundance hikes. Summer hikes are recommended during the cooler parts of the day as Park City always seems to have hot, sunny afternoons. Fall hikes see more mild temperatures, with cool and crisp mornings that warm to comfortable afternoons. *All hikes are private and have a person minimum*.
Local Hike
We have a variety of trails in the mountains above town we would love to show you. The drive time to the trailhead is typically very short, averaging 10 minutes each direction. You can expect to be on the trail for 2 to 2.5 hours with a knowledgeable guide. We typically pick up our local hikes at 8:30am or after lunch at 1:30pm.
Stewart Falls Hike
Visit a towering waterfall and walk through wildflower covered hillsides with us! After a scenic 45 minute drive we arrive at Sundance Resort. Enjoy about 2 miles in each direction of an out and back hike up to the falls and back. Stewart Falls drops almost 200 feet in two tiers. We offer this excursion daily at 10am.
Uinta Hike
The Uinta Mountains host Utah's highest peaks with 21 lofty mountains reaching 13,000 feet in elevation. Mirror Lake Highway, closed over half the year due to deep snow, has plenty of day hikes that are sure to please. The Uintas have hundreds of alpine lakes, wildlife, and provide more of a wilderness feel than our local hike. All Seasons Adventures proudly operates on US Forest Service land under a special use permit managed by the Heber-Kamas ranger district. Hikes begin at 9:00am daily, and after an average of 1 hour of driving, you will be at the trailhead. Hiking time can vary but expect the trip to be four to five hours door to door.  Although we can offer an afternoon outing, there is a high probability of thunderstorms.
Park City Lift Served Hike
Ride the same chair lift you did in January but find out what's under all that snow! Enjoy 1.5 hours of hiking and a relaxing ride up higher into the mountains. We can even arrange to take a thrilling ride back down the mountain on the PCMR alpine slide. This beautiful hike is offered daily starting at 10:00am or at 1:30pm. Please call to book this hike, not available for online booking.
Birding Tours
Enjoy a  local or Uinta hike while seeking  the amazing birds that call Utah home, and other various migrating species.  Some of the unique birds to the region that could potentially be found are Gray Jay, Western Tanager, Pine Grosbeak, Stellar Jay, Ruffed and Dusky Grouse, American Three-toed Woodpecker, Mountain Chickadee, Olive-sided Flycatcher, Red Crossbill, Northern Goshawk, Swainson's and Red-tailed Hawks and even the seasonal Flammulated Owl.  Tours pick up either 30 minutes before sunrise for the morning option, or  around 5 - 5:30pm depending on your destination for the evening option.
Tours will include head lamps if needed, binoculars, field book, and everything else included in a hike. Custom options available, seeking out a specific bird?  Give us a call. For more information check out our blog.
What's Included / What to Bring
All of our hikes are guided and include round-trip transportation from your lodging location in Park City. We divide our trips by pace: leisurely, moderate and aerobic, the time on the trail will vary between 1 to 4 hours depending on which pace you choose. The easiest way to break them down is by mileage, a leisurely tour typically travels about two miles in those two hours. A moderate tour goes three to four miles and aerobic tours cover five plus miles. Oftentimes we'll save tours with steeper and longer inclines for moderate and aerobic tours, while offering more level trails for leisurely and moderate. Our guides will carry plenty of water and a light snack for the group in their pack, allowing you to stay hands-free to take plenty of pictures or maintain your pace. If you have a reusable bottle, please bring it along to help us cut down on our single-use plastic. Make sure to wear plenty of sunscreen, a hat and sunglasses, and comfortable walking shoes.
Hiking Options *2 person minimum
Adult
Child
Local Hike
$90
$80
Stewart Falls
$175
$155
Uinta Hike
$165
$150
Lift Serve
$90 + Cost of Ticket
$80 + Cost of Ticket
Alpine Slide
$90 + Cost of Ticket
$80 + Cost of Ticket
Additional Hour
$35
$35
Local Birding Tour
1-3 people: $150/person
4+ people: $115/person
1-3 people: $150/person
4+ people: $115/person
Uinta Birding Tour
1-2 people: $440
3-4 people: $175/person
5+ people: $150/person

1-2 people: $440
3-4 people: $175/person
5+ people: $150/person
Call to book if within 7 days of your desired activity. Booking online is only available for reservations a week in advance. 435.649.9619.
Searching Availability...
"We asked our hotel to book us a guided hike totally last minute. At noon we asked if we could go at 1pm. The hotel didn't think it would happen, but they called anyway and it turned out we got a guide for 2pm. Becca showed up and took us on a beautiful 4 mile trek (after she had already done a huge hike that morning). She was delightful and very knowledgeable and even brought water and snacks in her backpack for us on the hike! It was awesome! Would totally do it again."
– Sonia A
"…Two days later we did the hike and slide. We took the lift up to the top of one of the Park City chairs and hiked down to the entrance to the alpine slide. Both kids loved the alpine slide. The guide was fun and had snacks for the kids when we finished the slide. For both adventures we were both picked up and dropped off, which was handy because we didn't have a car..."
– Kristi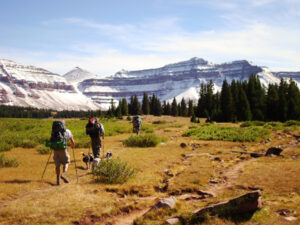 You were just on the adventure of a lifetime. You got the most amazing
Read More

→
It can be easy to get lost in the sluggish sauce of winter, but
Read More

→
When booking an adventure, it's important to have a guide who you can trust,
Read More

→