Park City Guided Hikes
Park City hiking is the best! We offer a variety of hikes in Park City, out in the wild Uinta Range and south of town at Sundance Resort. Whether you are interested in the local mining history, getting a workout or taking a scenic chair lift ride to a leisurely stroll through the wildflower covered mountains we have you covered. Who knows, a towering waterfall may be just around the corner!
When it comes to Park City hiking, there are a variety of trails for all skill levels. Please check with us to discuss options for your local hike. If you are interested in getting out of Park City, the Uinta Mountains or Sundance Resort may be just what you're looking for. All of our hikes include guide(s), transportation from anywhere in Park City, snacks and drinks.
Northern Utah is a hiker's paradise. You're on vacation, relax and let us take care of the details. The hardest decision you'll have is choosing between our local, Uinta or Sundance hikes. Summer hikes are recommended during the cooler parts of the day as Park City always seems to have perfectly warm, sunny afternoons. Fall hikes see more mild temperatures, mornings are typically cool and crisp warming to comfortable afternoons.
Local Hike
We have a variety of different trails in the mountains above town we would love to show you. You can expect two to two and a half hours on the trails with a knowledgeable guide. We typically offer our local hike in the morning at 9am or after lunch at 1:30pm.
Stewart Falls Hike
Visit a towering waterfall and walk through wildflower covered hillsides with us! After a scenic 45 minute drive we arrive at Sundance Resort. The adventure begins with a chair lift ride. After gaining elevation we unload and begin the 3 mile hike to impressive Stewart Falls. Stewart Falls drops almost 200 feet in two tiers. While this hike is mostly level to downhill there is a steeper section to reach the falls, we recommend sturdy footwear. We offer this excursion daily at 9am.
Uinta Hike
The Uinta Mountains are where Utah has its highest peaks, with 21 lofty mountains reaching 13,000 feet above sea level. You will love day hikes off the Mirror Lake Highway, closed over 1/2 the year due to deep snow, offered at 9am daily. We can offer an afternoon outing, however, thunderstorms can arise in the afternoons. This area has hundreds of alpine lakes, wildlife and more of a wilderness feel than our local hike.
Park City Lift Served Hike
Ride the same chair lift you did in January but find out what's under all that snow! Enjoy 1.5 hours of hiking and a relaxing ride up higher into the mountains. We can even arrange to take a thrilling ride back down the mountain on the PCMR alpine slide. This beautiful hike is offered daily starting at 9am or at 1:30pm.
What's Included / What to Bring
Our beautiful hikes are all guided and include round trip transportation from here in Park City, Utah. Depending on which hike you choose, plan on spending between one to four hours on the hiking trails. Your guide will carry a pack so you can be free to take pictures, take in the scenery or maybe focus on keeping your heart rate up! All you need is to throw on a pair of comfortable walking shoes, sunscreen and we will take care of the rest. As always with any outdoor excursion we recommend starting hydrated. Utah is the second dried state in the US, however, Park City got it's name because early settlers loved the wildflower covered mountains and it reminded them of the parks of the eastern US. 
| Hiking Options | Adult | Child |
| --- | --- | --- |
| Local Hike | $75 | $70 |
| Stewart Falls | $125 | $115 |
| Uinta Hike | $105 | $95 |
| Lift Serve | $75 + Cost of Ticket | $70 + Cost of Ticket |
| Alpine Slide | $75 + Cost of Ticket | $70 + Cost of Ticket |
| Additional Hour | $20 | $20 |
Call to book if within 7 days of your desired activity. Booking online is only available for reservations a week in advance. 435.649.9619.
Searching Availability...
"We asked our hotel to book us a guided hike totally last minute. At noon we asked if we could go at 1pm. The hotel didn't think it would happen, but they called anyway and it turned out we got a guide for 2pm. Becca showed up and took us on a beautiful 4 mile trek (after she had already done a huge hike that morning). She was delightful and very knowledgeable and even brought water and snacks in her backpack for us on the hike! It was awesome! Would totally do it again."
– Sonia A
"…Two days later we did the hike and slide. We took the lift up to the top of one of the Park City chairs and hiked down to the entrance to the alpine slide. Both kids loved the alpine slide. The guide was fun and had snacks for the kids when we finished the slide. For both adventures we were both picked up and dropped off, which was handy because we didn't have a car..."
– Kristi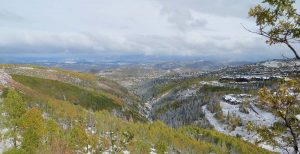 Park City may be known as a mountain biking town when the snow's not
Read More

→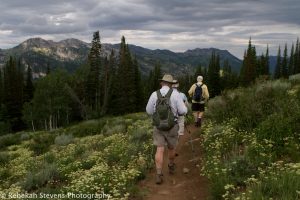 The Wasatch Mountains make up the back drop of Park City. While hiking on
Read More

→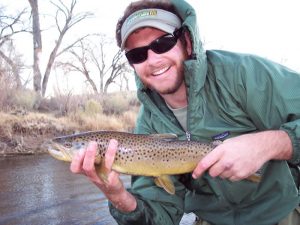 Spring in Utah is a dynamic season as there can still be significant amounts
Read More

→