Park City Winter Fly Fishing
Fly fishing in the winter? Why not! Here in Park City, we fly fish year-round. In fact, winter fly fishing sees fewer anglers on the river offering more solitude than the summer months. Dressing for the weather is really the key to success. The clothing you wear on the ski slopes, in addition to waterproof waders; helps you stay comfortable on the river, through the coldest months.  Trout will key in on midges throughout the winter and get very excited about BWO mayflies come February and March.
We cater to all experience levels, however, winter fly fishing may be best enjoyed by those with previous fly fishing experience. Tours accommodate a maximum of three guests per guide. If you have a larger group, we will bring on additional guides so that each angler has ample attention. Flies, equipment, guide, and transportation are provided. The half day is recommended during the coldest winter months as our days are so short!
Half Day Winter Fly Fishing
Our half day tour is four hours on the river. Unlike summer, we recommend getting a start around 10am to ensure you're out during the warmest part of the day.
Full Day Winter Fly Fishing
Days are short here in the winter months and we only recommend the full day experience for the avid angler used to cold weather. When you schedule a full day trip you can expect to spend at least six hours on the river. Lunch is included in the full day tour.
Winter Fly Fishing Photo Gallery
Winter Fly Fishing Itinerary
Park City Utah has long been a fly fishing destination and we at All Seasons Adventures would love to show you why. Unlike summer fly fishing, we recommend a late morning start time to ensure you are out during the warmest part of the day.
Your fishing guide will have all the equipment including: waders, wading boots and all other essential gear when they pick you up. Your guide will take you to one of their favorite spots on the Provo River, which is only about 30 minutes from Park City. Expect to do a little hiking and crossing of the river to reach the perfect spot.
While we don't guarantee catching fish, we guarantee a day to remember. Your guide will cater the trip to your ability and comfort levels. Whether you are a first timer or avid angler, guides are prepared to teach the basics or advanced skills. All tours are private with a maximum of three guests per guide. If you have a larger group, we will bring on additional guides so that each angler has ample attention. We practice catch and release to allow the trout and other native species a long and healthy life.
What's Included / What to Bring
To ensure a streamline process be sure to complete the fishing license form in your booking invoice at least 48 hours prior to your trip. You will be wade fishing so be sure to wear warm socks! Dress for the weather, layers are essential! It doesn't hurt to wear sunscreen on those sunny blue bird days, and be sure to wear sunglasses. Along with an exceptional guide, round trip transportation, all necessary fly fishing equipment, snacks, sodas and waters are included. Please feel free to bring your own reusable water bottle to help us cut down on single use plastics. Your guide will provide you with the best flies for the fishing conditions. Although it is tempting to bring along fancy camera equipment, please understand that river crossings can be difficult, and it is easy to lose balance. Please don't bring anything that you aren't willing to get wet.
Winter Fly Fishing Trip Cost
| Fly Fishing Options | Adult |
| --- | --- |
| 1/2 Day 3:1 Guest to Guide Ratio | $190 |
| 1/2 Day 2:1 Ratio | $200 |
| 1/2 Day 1:1 Ratio | $310 |
| Full Day 3:1 Ratio | $270 |
| Full Day 2:1 Ratio | $275 |
| Full Day 1:1 Ratio | $415 |
| Fishing License | $28 |
| Youth License | $6 |
Call to book if within 7 days of your desired activity. Booking online is only available for reservations a week in advance. 435.649.9619
Searching Availability...
Questions? Don't See what you are looking for? There is a good chance we can accommodate you, just give us a call!
Call: (435) 649-9619 or Contact Us
Video: Provo River Fly Fishing
Winter Fly Fishing Reviews
"My husband and I joined our friends on our first fly fishing trip yesterday. Joe and Woody were our guides and went out of their way to patiently teach us in detail how to fly fish. They took pictures and taught us all about the park city area. They also made sure to set us up in one of the best fishing areas. We all were able to catch plenty of fish and enjoy the scenery. Thank you Joe and Woody!"
– Marissa C
"We were in Park City for a corporate outing. We went Fly Fishing and Craig was our guide. The place he took us to was breathtaking and we had a great time. All the equipment was top notch and it was one of the highlights of our trip. Even if you are not a fisherman do it!"
– Tjk7777
We've been busy having fun this summer with guests, both old and new, but
Read More

→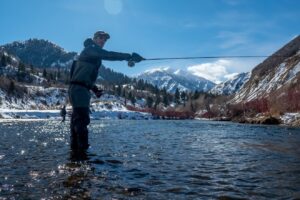 What is Fly Fishing? Fly fishing is an angling method that uses a light-weight lure—called an artificial fly—to catch fish.
Read More

→
Park City Spring Break Bucket List The covid-19 pandemic has certaintly put a damped
Read More

→