Park City Fly Fishing
Catch the "Zen" when fishing with All Seasons Adventures and our skilled fishing guides. Whether you are a seasoned fly fisher or a novice, we will make your experience in Utah one to remember. We offer half day and full day trips on the Weber and Provo rivers along with exclusive access to rivers, streams and lakes in the Uinta National Forest.
With an abundance of fishing options from blue ribbon fisheries to small streams holding Grayling and Brook trout, we are happy personalize your experience.  Please reach out with any questions. Your day on the river will quickly become a memory you'll want to share with everyone you know.

We will handle getting your license, gear and all the terminal tackle for you. Your guide will pick you up at your lodging location and drive you to the river. For the most rewarding experience, we want you to spend as much one on one time with your fly fishing guide as possible. To ensure this happens, we will not group more than 3 guests with each fly fishing guide.
Provo and Weber river trips
An excellent option for first timers or experienced anglers.  These two world class rivers hold a healthy population of Brown trout along with the occasional Rainbow and Cutthroat.  Spend four hours on the river, 5 hours door to door, with our half day fly fishing tour. Full day trips are 6+ hours of fishing and include lunch.  Let our Provo River and Weber River fishing guides show you why Park City is a Utah's fly fishing destination.
Avid anglers will most appreciate exploring what the Uinta mountains have to offer.  If you are seeking a different species or just hoping to leave the crowds behind, this might be the ticket.  Uinta fly fishing trips can offer a freestone river, technical streams or high mountain lakes teeming with trout eagerly awaiting your dry fly.  Fishing the more accessible lakes can also be a great option for families.
Fly Fishing Photo Gallery
Park City, Utah has long been a fly fishing destination and here at All Seasons Adventures we would love to show you why. Your customized half day trip will typically start with an early morning 7:30am or afternoon 2pm pick up from your lodging. Full day trips are recommended in the morning as we all know the early bird gets the worm... or in your case, fish!
Your fishing guide will have equipment for the excursion including: waders, wading boots and all other essential fly fishing equipment. Each guide has their favorite spot, some prefer to fish the Provo River while over guides love the Weber River. Each river is approximately 30 minutes from Park City.
Expect to do a little hiking and crossing the river to reach the perfect spot.
We welcome first timers to the avid angler. Your guide will tailor the trip to your experience level. While we don't guarantee catching fish, we guarantee a day to remember. We practice catch and release to allow the trout and other native species a long and healthy life. All tours are private with a max of three clients to one guide. Half days are typically four hours on the water and full days are six hours on the water. Lunch is included in the full day tour.
What's Included / What to Bring
To ensure a streamline process be sure to complete the license form in your booking invoice at least 48 hours prior to your trip. As you will be wade fishing be sure to dress for the weather, wear sunscreen, baseball cap, sunglasses and don't forget your socks! Along with an exceptional guide, round trip transportation, all necessary fly fishing equipment, snacks, sodas and waters are included on each fly fishing excursion. Your guide will provide you with the best flies for the fishing conditions. If you are out on the full day trip lunch is also included.
| Fly Fishing Options | Adult |
| --- | --- |
| 1/2 Day 3:1 Guest to Guide Ratio | $160 |
| 1/2 Day 2:1 Ratio | $180 |
| 1/2 Day 1:1 Ratio | $280 |
| Full Day 3:1 Ratio | $200 |
| Full Day 2:1 Ratio | $230 |
| Full Day 1:1 Ratio | $370 |
| Fishing License | $24 |
| Youth License | $5 |
Call to book if within 7 days of your desired activity. Booking online is only available for reservations a week in advance. 435.649.9619
Searching Availability...
Video: Provo River Fly Fishing
Looking for even more adventure?
Book our Float & Fly Fish or Blast & Cast Package!
Looking to spend a whole day out on the river? Or looking for a full day of activity? Check out the packages we offer!
"We had the best time fly fishing! We were all new to it and the guides could not have been better. They provided all the gear and made it such an easy and enjoyable day. They gave us great instructions and helped us the whole time. We caught some huge fish and all of us had a blast. They were all so passionate about fishing and so helpful. We will use them again."
– Vanessa
"Was up for a conference in Park City. Last day we had some extra time before our flights and arranged a fly fishing trip with Joe Wahl at All Seasons Adventures. Beautiful day, amazing help and service- teaching me for the first time. I snagged 7 and netted 3 awesome fish. Joe took the time to teach me and the few others I came out with. I have to admit, Id be addicted if I had a river nearby where I live. Overall great adventure and very worth it." 
– Matthew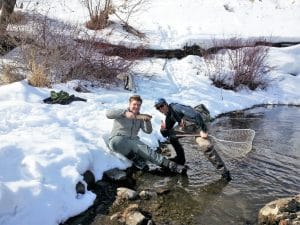 Fly fishing in Park City is world class! But did you know that fly
Read More

→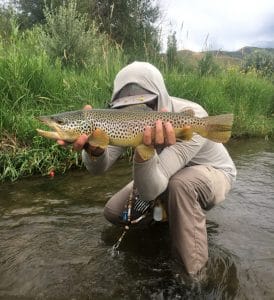 In nearly every corner of the state, Utah's rivers, lakes, and streams have excellent
Read More

→
Last Update: June 14, 2019 Whether you plan go with a guide or on
Read More

→