**We are currently very busy with summer activities  and unable to accept dogsledding reservations for winter 2021-2022 at this time. Please reach back out in october. **
Park City Dog Sledding
Enjoy Dog Sledding only 15 minutes from Main Street! This is a unique adventure for the whole family three years of age and older. Glide through snow-covered meadows, aspen groves and evergreen forests on our private trails in the Wasatch Mountain Range. Children will enjoy meeting all of the friendly sled dogs and the future racing pups. These dogs love what they do! Many have a second chance at life thanks to our mushers. Check out the Arctic Breed Rescue of Utah to learn more.
We offer two different dog sledding experiences.  The hour long experience involves meeting our musher, a brief intro and our longest duration ride followed by plenty of face time with the dogs. This ride normally last 50 minutes to 1 hour, time varies due to varying conditions and the dog's energy expenditure. The second option is a split ride, which is two 25-minute consecutive rides that can accommodate more people. Each sled can accommodate up to 350 lbs, typically two adults or an adult with two small children. *Weight limit is strictly enforced*
Racer Gibson is our go to musher! He has been mushing for All Seasons Adventures for 9 years. When he isn't mushing he can be found in Racer's Cycle Service or helping his wife, Maren, run Arctic Rescue. They started mushing as a way to exercise their rescue dogs. From there, the passion and number of dogs has steadily grown.
Racer and Maren started by rescuing sled dogs from local shelters and then founded the Arctic Rescue. Arctic Rescue saves more than 100 dogs a year--usually Siberian Huskies, Alaskan Huskies, and Alaskan Malamutes. They specialize in helping to place adoptable dogs in good homes and taking care of unadoptable dogs themselves. They are unique in their commitment to these breeds and seek to work with local shelters and other animal agencies to find the best solutions for dogs and their caretakers.
Dog Sledding Photo Gallery
Our location is easy to find and only 15 minutes from Main St. Park City! We recommend leaving a half hour prior to the tour. We can provide round trip transportation from your lodging in town for an additional fee.
We will be offering one sled on Thursdays, Saturdays, and Sundays, at 10am or 12pm. Our sleds can accommodate two adults or one adult and two smaller children, with a 350lb weight limit. Kiddos need to be at least three years old to ride with us. If you have a family of four the split ride is a great choice.
Once arriving at our location, you will meet our musher, Maren and her family of sled dogs. She will get you situated in the sled and start connecting the dogs. Once all dogs are properly attached you will be off on the trails!
After the tour you will have the opportunity to give treats to each dog as well as give them more love, pets and take photos!
What's Included / What to Bring
Dog sledding doesn't require you bring technical equipment; all you need to do is come dressed for the weather! We recommend wearing ski gear so you stay warm while out on the tour. We also recommend bringing along ski goggles or sunglasses because the dogs do tend to kick up snow. Finally, you will want to make sure to bring your camera so you can take pictures with your favorite dogs!
| Dog Sledding Options | Adult | Child |
| --- | --- | --- |
| Hour Dogsled Ride | $420 per sled | $420 per sled |
| Split Dogsled Ride | $500 per sled | $500 per sled |
| Transportation | $120 per vehicle | $120 per vehicle |
Harnessing Passion: The Arctic Rescue Sled Dog Team
Video: Park City Dog Sledding
"AMAZING, must do! This was the highlight of our trip. Our guide was Racer and he was wonderful. The doggies were all rescues and so sweet."
– Jackie G
"We absolutely loved dog sledding. Racer and Lizzie were great and the outing ran smoothly from pick up to drop off. I highly recommend All Seasons Adventures. Even the teenagers had fun!!!"
– Dpcallaway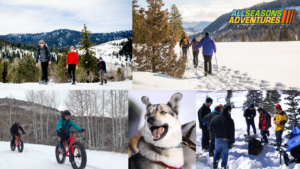 Home to the greatest snow on earth, Utah winters are world class. With 10
Read More

→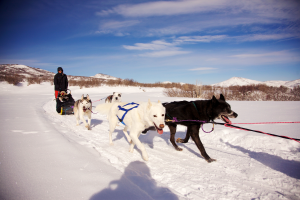 History: This now popular activity originated as early as 1,000 A.D. by native and
Read More

→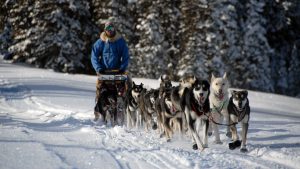 With the recent snow accumulation we are now operating dog sledding 15 minutes from Main
Read More

→