Park City Mountain Biking
The secret is out. Park City has over 450 miles of single track trails, and they are waiting for you no matter your skill level. Join us on our brand new fleet of 2019 full suspension Scott Genius bikes--let us show you the best trails on the best bikes. From rolling paved paths to challenging single track there are numerous options around town. We will work with you to find the perfect ride for your experience and desires. Beginners can cut their teeth on Round Valley's gravel double track while experienced riders can put together a seamless all mountain ride to challenge themselves.  Our mountain bike tours are always private so we can provide the best possible level of service to you.
When you make a reservation we will discuss in detail what type of ride you are interested in. Our Park City mountain biking tours include this year's Scott full suspension mountain bikes, helmet, round trip transporation from your lodging, guide, water, and snacks. Our guide-to-client ratio is 6:1 or less on the beginner rides and 5:1 or less on the advanced rides. Our staff is excited to have you join us soon for a morning or afternoon of Park City mountain biking!
Mountain Biking in Park City
Our Park City Mountain bike tours are for everyone! From beginners interested in a scenic outing to experienced individuals looking for a thrilling downhill adventure. Here solely to ride, let us take the guess work out and design an epic ride just for you! Park City was IMBA's first gold medaled rated city, let us show you the goods.
Park City Winter Fat Biking
Looking to ride during your winter vacation? A Fat Bike Tour may be just for you! This activity is condition dependent and is more suited for more experienced mountain bikers. With options ranging from the mellow groomed rail trail to challenging single track, we are happy to show you what this winter sport has to offer. Give us a call and we can discuss conditions and if this activity is for you.
Mountain Biking Photo Gallery
Mountain Biking Itinerary
Our favorite time of day to mountain bike in Park City is during the cool morning hours. Afternoons are sunny and warm, don't forget the sunscreen and be sure you're hydrated. We offer trips with transportation picking you up at 9am or later in the afternoon around 1:30pm. No need to research the perfect ride or worry about finding the trailhead as your guide will show you the best Park City mountain bike trails. All our rides are private to ensure you get the most out of your ride. Once you arrive at the trail head, helmets will be fitted and your guide will give you a tutorial on the bike. Over the next two hours intro level riders will have the opportunity to get out and see the beautiful mountains of Park City while enjoying a leisurely pedal or instruction on entry level single track. Experienced riders can expect a custom experience catered to your preferences, it will be a ride to remember! Your guide will have refreshments to keep you fueled during your adventure.
What's Included / What to Bring
We like to think our guests just need to dress for the weather and we will take care of the rest! Recommended attire includes bike shorts/pants, light jacket, sunglasses and your favorite shoes to ride in. Tours include round trip transportation, guide, water, snacks, bike and helmet. Guests can expect high end, full suspension 2019 Scott Genius mountain bikes. Flat pedals are standard unless you bring your own bike shoes. Be sure to let us know and we can put SPD or crank brothers pedals on your bike. Beginners can request to stay on hard surface trails, bike path style riding which is similar to a dirt road, or get a little adventurous and move into double track riding. Intermediate riders have a lifetime of options here in Park City involving cross country style single track. Advanced riders can stay lower in elevation for fantastic single track, with 365 degree views of the Wasatch Mountains and Park City, or request a shuttle ride for more continuous downhill. More experienced riders will love that a quick shuttle up the mountain offers flowing single track and beautiful views of the Rocky mountains. Looking for a rewarding climb? Not a problem, we will be sure to keep your heart pounding! All our rides are 2-2.5 hours on the trails, longer rides available upon request.
Call to book if within 7 days of your desired activity. Booking online is only available for reservations a week in advance. 435.649.9619
Searching Availability...
Looking for even more adventure?
Book our Bike & Float Package!
Looking to spend a whole day out on the river? Or looking for a full day of activity? Check out the packages we offer!
"My son and I are fairly experienced riders but when in Utah for only a couple days we decided that rather than waste time trying to figure out where to ride on our own, we'd let All Seasons Adventures take us right to the good stuff. Vince exceeded our expectations by providing really nice bikes and guiding us on trails that were perfect for our ability level. Vince was also just a great guy to go biking with. Whether you are a newbie or experienced rider, All Seasons Adventures can put together a ride that you will never forget!"
– Jamaicamon93
"Great day with Vince. My wife is a beginner and I am more of an intermediate, but Vince was able to create a day that suited us both perfectly. He spent some time going over fundamentals with us, and then would send me a bit ahead, and ride with my wife so he could give her cues as she went. I thought this day day would be more of an activity for me, but with Vince's awareness and patience, we both had a really great time. And now my wife wants to bike more, which is a huge bonus."
– Daniel K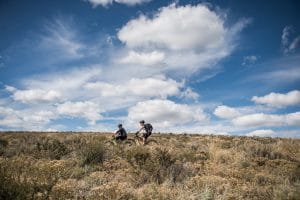 There's no doubt about it. Park City is a world-class mountain biking hub. It's
Read More

→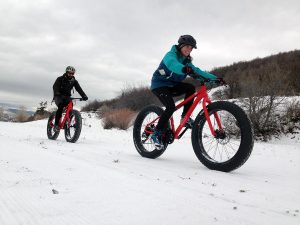 One of the best things about winter in Utah is getting outside. It seems
Read More

→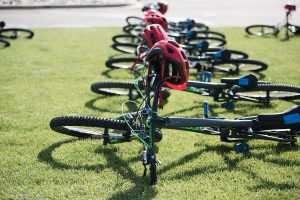 Whether you're hitting the rail trail with the family or Park City's epic single
Read More

→