Make sure your next conference is one to remember!  All Seasons Adventures corporate events are an excellent option when you have a business group coming to Park City. We offer a fully customizable experience for small to large groups and have had the pleasure to have worked with numerous companies.   even our local ski resorts Park City Resort and Deer Valley Resort. Some of our previous clients include: Columbia Sportswear, Google, Nike, Ebay, Hewlett Packard, National Media Cinema, A&E, Red Bull, and Young Presidents' Organization. Park City is known for its great skiing as a winter wonderland; however, we have plenty of activities for any time of the year! We offer activities that can fill your day or provide a few hours to re-energize and get away from meetings.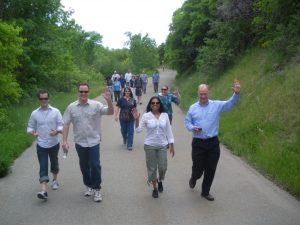 Adventure races: Spring, Summer, and Fall.
Follow a set of coordinates using a GPS unit around town and see all of historic Park City while having an exciting competition. Just like the fun scavenger hunts you loved as kids, each location has an activity associated with that area. Our guides will help groups navigate to each spot using the GPS and explain each place's activity and point value. Groups complete as many activities as possible in the time allotted and race back to base before time runs out in order to not lose any points. This is a great way to let your hair down and work as a team in a super fun and spontaneous setting.  All Seasons offers either an on mountain hiking option or a Park City Historic option which involves traveling around town via van.
Team Building: Spring, Summer, Fall and Winter.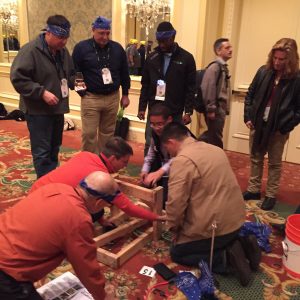 Forget the tedious lectures and white board boredom, set up your group with our newest creation the catapult launch! Work on group intercommunication as each team builds a catapult. Our guides distribute all the needed parts to build the catapult but hold back on instruction.  The pressure builds as points are given to the first successfully built catapult. Teams are giving bits of information to help ease in the construction frenzy. Only small bits of information are given at a time and this is where leadership, teamwork, task delegation and management capabilities shine through. Ever heard of too many cooks in the kitchen? This competitive interactive event builds dynamic communication and after all the catapults have been successfully built we have a friendly competition launching bean bags at the target.
Basecamps: Winter.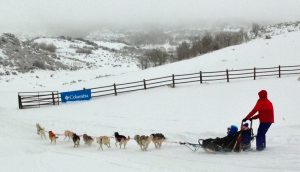 Spend a few hours out on the ranch! Our ranch is located about 15 minutes outside of downtown Park City.  Basecamps are set up to offer as many or as few activities as each member of your group desires. Popular activities include your choice of a 30 minute snowshoe, 30 minute sleigh ride, one hour snowmobile ride and a 20 minute dogsled ride. Basecamps will provide everyone in your group an option to have some fun, relax and connect with other team members on a more individualized type of outing. Some people love to snowmobile the whole day while others like the thrill of dog sledding or the peaceful relaxing nature of snowshoeing. For those who need to warm up between activities we have hot chocolate and coffee in the barn. There is also the ability to bring in a caterer for food options!
In addition to the All Seasons Adventures corporate events listed above, some of our groups have enjoyed a group outing of snowshoeing, cross country skiing, fat tire snow biking, all season fly fishing, trap shooting and when it's warmer rafting, hiking and mountain biking! We strive to make your corporate outings as convenient as possible and provide transportation for all these activities.
Have another idea in mind?
Give us a call and we can discuss options or additional activities as we love to try new ideas because there are adventures waiting during all of Utah's seasons!