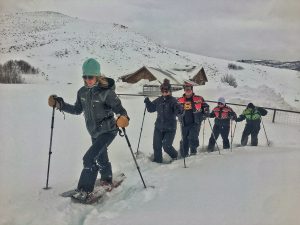 The fashion industry is one of the top polluting industries second only to the oil and gas industry. Columbia has taken a big step in mitigating some of this impact with the invent of their new shell. Being an outdoor enthusiast I see firsthand how each of us make a difference from the decision to buy local supporting our communities where we work and play to refusing single use water bottles and purchasing progressive environmentally responsible products. This season as I looked for a new water proof shell I was thrilled to find a product that performed and was environmentally sound. This year my expectations have not only been met, but blown out of the water with the addition of the Outdry Extreme ECO shell by Columbia Sportswear. This high tech looking piece has taken waterproofing to the next level and has eliminated many harmful components that are usually found in outdoor clothing. Columbia has taken a holistic approach in the development of this shell by developing a lifetime assessment. They looked at the materials used, processing procedure, packaging and logistics, use and care and end of life.
First look at this techie shell you are bound to notice the fabric is much different than a traditional Gore-Tex shell. This is the first high performance environmentally friendly jacket without perfluorinated compounds (PFCs). Never heard of PFCs? Historically water proof shell jackets consisted of a treated fabric and plastic like membrane that both contained PFCs the water repellent chemical. These compounds eventually wear off and are very stable and readily bioaccumulate in the environment. The Environmental Protection Agency (EPA) released Drinking Water Health Advisories associated with PFCs on May 19, 2016. Studies found PFCs caused harmful effects on the liver, development, immune system responses and were also associated with tumors in laboratory animals exposed long-term to high levels. The fabric of the Outdry Extreme ECO jacket is an innovation as it is unlike traditional shells because it eliminates almost all of PFCs. To further the environmental stewardship of this jacket the material is made from 21 recycled plastic water bottles.
Next Columbia created the fabric using a dye free process eliminating up to 80% of the water used in traditional clothing production. Since the discovery of synthetic dyes by WH Perkins in 1856 their use has provided a wide range of colorfast, bright hues, however, due to their toxic nature the use of synthetic dyes has an adverse effect on all forms of life. According to the World Bank, 20% of water pollution globally is caused by textile processing. The fabric produced using a dye free process eliminates toxic effluent from dye factories and each jacket saves 13.5 gallons of water. As a mere 2.5% of Earth's water is freshwater and only 0.3% of it is readily accessible to humans our growing global population must protect our waters for today as well as for future generations.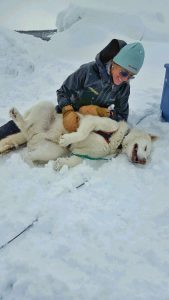 In promoting sustainability packaging and logistics were addressed as well. This awesome shell is Bluesign endorsed meaning it was created with the least possible impact on the planet and people. Columbia focused on how to "not add things that didn't add additional value". The label is sleek using 100% post consumer recyclable material and water based soy ink.
Use and care are super simple; if you get a little muddy this jacket can be wiped clean! If it's time for a wash Nikwax techwash is formulated without harmful PFCs and is great at getting out the stink.
This jacket is bomber and will be loved for years to come, however, it is important to remember that even discarded clothing has a serious impact on our local communities and planet in whole. According to the EPA 13.1 million tons of textiles are trashed each year in the U.S., estimated only 15 percent are donated or recycled. Secondary Materials and Recycled Textiles a nonprofit trade association found on average a U.S. consumer throws out around 81 pounds of clothing per year. Most synthetic fibers, which account for about half of discarded clothing, decompose very slowly. Nylon takes 30-40 years to biodegrade while polyester requires more than 200 years. As they decompose these synthetic fabrics release climate altering gases like CO2, methane and also release dangerous chemicals like formaldehyde, heavy metals, bisphenol A (BPA) and PFCs into the environment and into our local drinking water. It is essential to donate or bring clothing in to participating retails that sponsor the rethreads program.
This jacket is an excellent addition to your outdoor arsenal and will be sure to keep you warm, dry, cool and comfortable in the most adverse conditions.