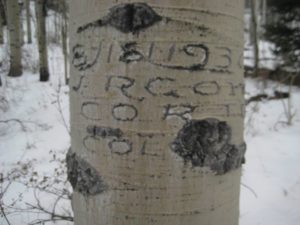 Taking a hike in the mountain west can offer solitude; fresh air and can offer a glimpse into the past with a tangible lesson in American History.
During the early 1800s and until the 1950s Basque sheep herders were some of the people to leave a lasting mark on the West. Often unknown even in the records of Ellis Island these people were recruited with promises of fortune. Little did these young men know, many not even 18 years old, what the herd owners had in mind for them. English was not their first language and in the Basque culture oral tradition was emphasized as well as reticence. Leaving behind simple to intricate drawings and poetic excerpts in broken English, Spanish and French on the white bark of aspen trees the Basque people left behind thousands of historically important treasures.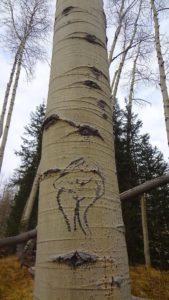 The first time I walked upon a carved image of an extremely busty lady I was in shock. As I looked around I suddenly realized I was surrounded by naked women many without faces! Taking a closer look dates and names could be found and the dates were 1929 and 1936. These carvings were something very special, not at all like the disrespectful "Joe ♡ Cindy" carvings that adulterate many trees on popular trails.
The information surrounding these carvings named "arborglyphs" is slim like the thin, tall aspen trees where I found the distinctive drawings. Aspen trees live at most 150 years and much of the artwork has already been lost to aging and dying trees. Joxe Mallea-Olaetxe one of the few who researches these tree carvings has documented over 20,000 arborglyphs. Although some of these carvings are now close to civilization, it is remarkable when you realize at the time these lonely herders were literally in the middle of nowhere. The completion of the transatlantic railroad reduced the cost and difficulty in reaching the Great Basin and West Coast but wasn't completed until 1896. These lonely herders could never have imagined the publicity their racy art, most doodles likely the chronicle of their possibly first sexual exploits.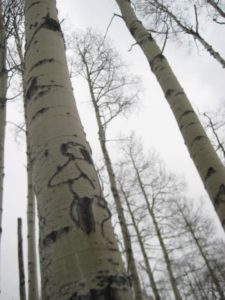 I suggest taking a hike and when you encounter a shady grove of mature towering aspen trees start looking. Take pictures and remember these images will soon be lost to the passing of time. Always resist adding your own not only for the legality of the National Historic Preservation Act of 1966 that protects those that are over 50 years old but simply for the fact that arborglyphs are irreplaceable.