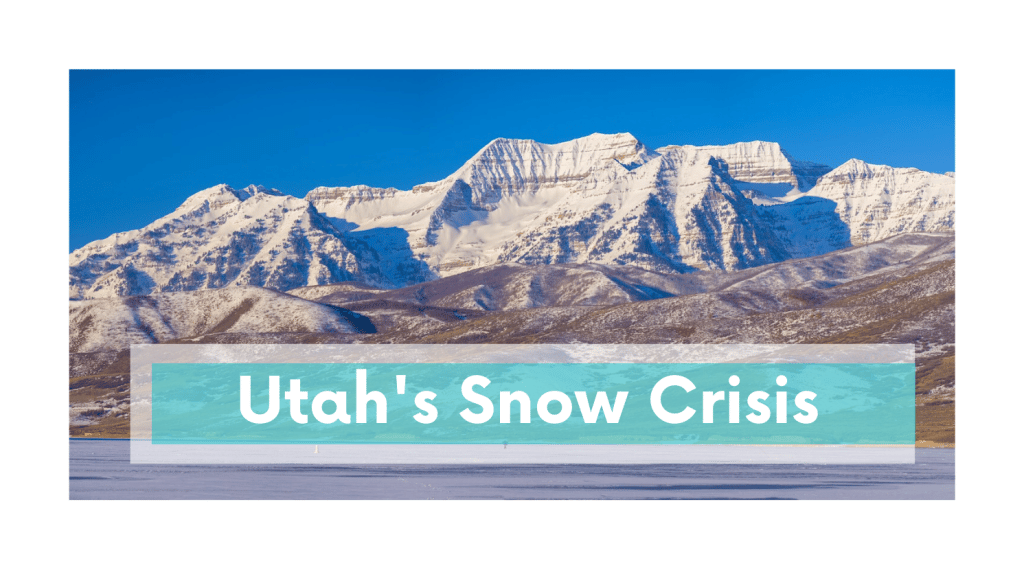 By now we all should be aware of Utah's 20+ year drought that has been in effect since the year 2000. In a catastrophic mix of climate change and mismanagement of water, Utah's water crisis continues to worsen. Just this year, Lake Powell was at its lowest point ever, dipping below the dam line and preventing power generation. This resulted in a 16% loss of power, putting residents of five different states in jeopardy. Additionally, the gradual disappearance of the Great Salt Lake finally hit headlines this year. The GSL has been drying up since 1987, losing 75% of its volume between then and now. Local authorities are starting to realize the impacts of this loss as shorelines shrink, leaving dangerous chemicals like arsenic to be whipped up into Salt Lake City's air.
This drought isn't just about lake levels and rain though, in fact, it's largely about snow. The primary cause of drought in Utah is less than average snowfall during the winter. This is because over 80% of Utah's water comes from snowmelt runoff in the Wasatch and Uinta mountains. Utah depends on a thick layer of snowpack to store water, and prevent too much run off. While the hydraulic system relies on run off to supply water to residents and industry alike, when there is more than can be used, water will be absorbed into the ground and not return into the system. Unfortunately, the lake and snow are locked together in a feedback loop. The lake dries faster when there's not enough snowmelt running into them, and the lower the lake drops, the less snow we get. This is because of something called the lake effect. Lake effect works differently in Utah; the GSL essentially disrupts the atmosphere, encouraging convection. This means more water gets in the air, and the high prominence of the Wasatch causes the resulting clouds to break, leading to multiple feet of snow. Furthermore, with the lake exposing more and more of it's sandy bottom, dirt gets swept up by the wind, to settle on top of the snow, creating a dark sun-attracting blanket, melting the snow even faster.
The GSL and the Greatest Snow on Earth are in a torrid love affair, with Utah's government being the primary hurdle for the pair to jump. Sadly, local and state policy does not reflect the urgency needed to preserve this delicate system. In fact, it could even be said that policy encourages more water to be used through the "Use it or Lose it" loophole that allows water users down stream to use any quantity that a water-rights-owning entity doesn't use, rather than allowing that same quantity to return to the lake. Additionally, several growing townships in the area are pushing for aquifer storage to accommodate a growing population, leaving even less water to flow into the lake. While states like Arizona, Nevada, and California have enacted strict water laws, encouraged xeriscaping, and introduced tiered pricing- Utah remains stubborn in their current ways. While only around 15% of Phoenix homes have lawns, a whopping 90% of Salt Lake residents still have turf to water. Utah is also the only moisture-challenged state to have such moderate tiered pricing. While in a state like California the difference between a resident's water price and a corporation's can be dollars, in Utah, an agricultural behemoth pays only THIRTY CENTS more than the average consumer.
It's easy to discuss how all of this affects quality of life in Utah, from water restrictions, to agricultural shortages, to toxic air pollution. However, not commonly weighed in debate is the major blow this deals to another essential economy here: Tourism. Tourism accounts for over 10 billion dollars and nearly 10% of all Utah jobs. And of that tourism, a huge sector is skiing. In fact, between the months of November and March, the Cottonwood Canyons see more visitors per day than any one of Utah's national parks. The ski industry is so valued in Utah that growing it has become a top priority for lawmakers. Without the World's Greatest Snow, Utah's economy will take a big hit- and snow quantity and quality has been in decline for years. This issue has finally put climate action on the map for the largely red panel of authorities, giving Utah potential to be a rare climate-conscious red state. So does tourism have the power to force Utah into a new water-conscious era? Maybe, but to counterbalance the needs of a growing population, there will need to be many changes to how our watersheds are managed.
When visiting a new environment, it's important to come educated on the issues, both social and environmental, before recreating there. This can prevent degradation due to over usage, and help create useful local policy. To learn more about Utah's water crisis or get involved, you can visit www.fogsl.org, www.protectourwinters.org, or www.utahrivers.org.