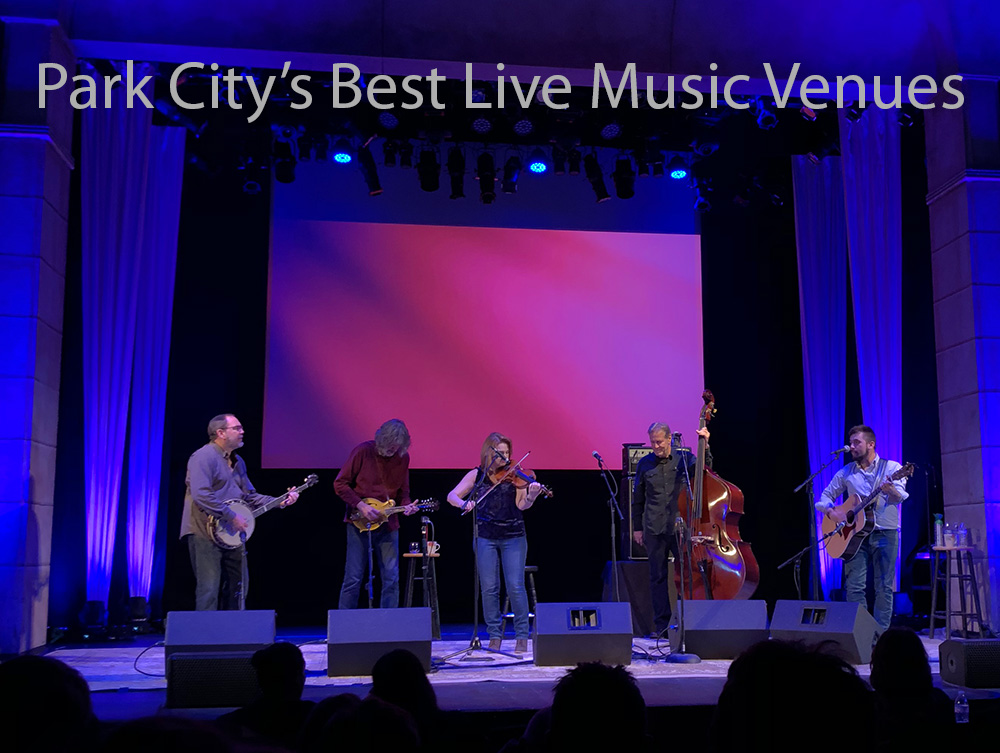 From outdoor concerts to indoor ones, as the weather gets colder, here's a list of great places to see live music in Park City. You'll be surprised at the great acts that come through our little town in the winter.
Indoor
O.P. Rockwell
O.P. Rockwell is a fantastic place to take in a live show. Named after the famed (or infamous) Porter Rockwell, a step into the concert lounge is like a step back in time. Wood paneled walls and smartly dressed bar tenders appear to be more in tune with a different era of Main Street, one of the Wild West. http://www.oprockwell.com/
The Spur Bar and Grill
There is always something musical afoot at the newly renovated Spur Bar & Grill. With live music every night, The Spur features great local bands as well as regional and national music acts. Keep in mind that The Spur does not accept advanced ticket purchases so if one of your favorites is scheduled for the night, be sure to arrive early. http://www.thespurbarandgrill.com/
Park City Live
Park City Live is Main Street's largest music venue and an excellent place for live shows. Some of the world's largest acts grace this stage. Only open for performances and special events, it is a good idea to check the website to see what's coming up. https://parkcitylive.net/
The Cabin
The Cabin, self-proclaimed home of the "Elkupine", has live music every Friday and Saturday night. You'll also enjoy Open Mic Night on Mondays and Cowboy Karaoke on Thursdays. Come thirsty because The Cabin has one of the longest beer menus around. http://www.thecabinparkcity.com/
Egyptian Theatre
There is rarely a dark night at the Egyptian Theatre. The lively venue is relatively small and the ticket price is wallet friendly but that doesn't stop this cultural work horse from pumping out quality live music shows all year long. With a full bar and close proximity no matter where you're sitting, this historical landmark is a must-see. https://www.egyptiantheatrecompany.org/
Silver Star Café
The Silver Star Café is a jewel of music venue tucked into the hillside of Park City Mountain Resort right at the base of the Silver Star chair lift. Each Thursday, Friday and Saturday the café features a live music dinner show with local artists as well as national touring artists. With only 50 seats in the house the dinner show is an absolute delight. Make sure to make a reservation in advance, as dinner shows often sell out. http://www.thesilverstarcafe.com/
Outdoor
Deer Valley's Snow Park Amphitheater
Locals look forward to the opening of Deer Valley's Snow Park Amphitheater all winter long. It is the local home stage of the Utah Symphony as well as the Deer Valley Concert Series and the popular Wednesday night Mountain Town Music Series. It's one of the best picnic music scenes in these parts. http://www.deervalley.com/WhatToDo/Summer/Amphitheater
Canyons Village at Park City Mountain
More familiarly known as the base of the Canyons, this concert venue has outdoor acts most Saturdays throughout the winter. If you have never danced in your ski boots, this winter is the time to start. Take in some music and the fresh mountain air at Canyon's Village. https://www.parkcitymountain.com/explore-the-resort/during-your-stay/park-city-events.aspx
The Quarry
The Quarry stage in the Pinebrook neighborhood is very popular in the summer. Each Sunday afternoon, Mountain Town Music presents one of its free shows to concert goers. You will see a great variety of skateboards, bikes, bike trailers and e-bikes at this local venue.
If you are in the mood for live music, then you have come to the right place. Between the outdoor venues and cozy indoor lounges you can find a Park City live music experience any night of the week. For a comprehensive music schedule, check out http://mountaintownmusic.org/.