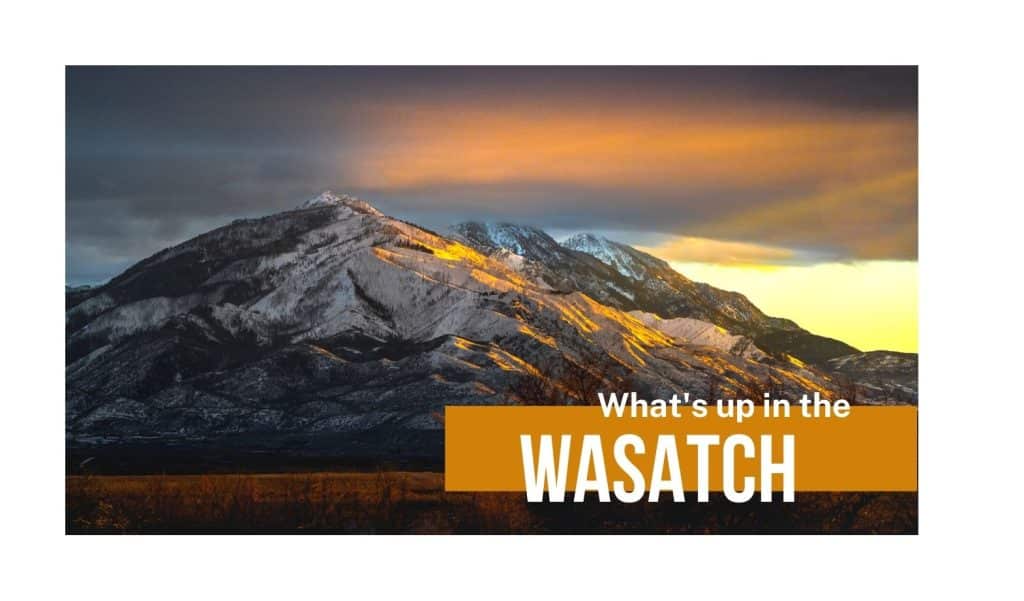 Welcome back to those following along with our What's Up in the Wasatch series, and welcome to those who've just found it! This is a monthly review of current local events, and how they affect our beautiful home. Keep up to date on important issues surrounding the use of the Wasatch mountains and their resources, and enter the conversation with a basic education regarding stewardship of our wild spaces.
As we begin to transition from one of our most potent winters in the last 20 years, into a much more mellow spring, Utah's legendary snowstorms have begun to cool down in frequency and delivery. Locals however, are happy to still be seeing occasional storms carrying us through Utah's signature dry spell that descends from late January to early March. Most of the state's snowpack is sitting above 100% of the typical amount, meaning some regions may even be removed from drought status come spring. However, in order to keep up with resident business demands on the water table, the storms must continue on. Assuming temperatures stay cold and massive melt-off doesn't occur until late spring, All Seasons Adventures is looking at a wild ride to start our summer rafting season, with the highest expected CFS in years.
In other news, the Utah Legislation session that's been underway since January 27th concludes this Friday, March 3rd. Many hot topics have been brought to the floor, including massively divisive bills on education, and healthcare for trans youth. Among the bills are several legislative pieces regarding the environment, including an HOA amendment banning the organizations from requiring green lawns (which passed unanimously), a bill supporting a program to save native bees by expanding pollinator friendly spaces (also passed unanimously), a bill declaring Utah an idle-free state, which failed on it's first round, but passed on a second vote, and a new tax on electric vehicle charging stations. Finally, while not directly environmental related, a set of bills passed a legislative committee which allow for the governor to begin negotiations for hosting the Winter Olympics. the bill provides for new venues, infrastructure, and declares Utah "Ready and Able" to host the 2030 or 2034 international Olympics.
It's well known that the 2002 Winter Olympics were held in Utah, specifically Park City. The event was the first step that Utah made out of its reputation as "The Mormon State" and into an outdoor recreationists paradise. That single event instigated new waves of tourism that have swept the state ever since. It begs the question: with a state already struggling to juggle millions of visitors, what would the impact be of millions more? On one hand, it may provide funding for a much needed infrastructure update, allowing for better solutions to be made surrounding mass transportation. Additionally, there's no denying this wave would be a boost for the economy. On the other, our natural resources are already stretched distressingly thin, and our recreational assets overrun. Even boundary restrictions, state of the art transportation, and better education surrounding Leave No Trace can't fix plain and simple overcrowding.
Olympics or not, the local governments surrounding the Wasatch are facing growing numbers of residents and visitors every year. We are lucky to be in a rare red state that regards these environmental issues as non-partisan, and has many legislators pushing tirelessly for solutions. However, action is slow to come, unlike the waves of people. Will Utah be able to protect it's natural assets before they're destroyed? What can we do to help as residents and visitors? We aren't powerless. Some things YOU can do to protect the resources you recreate on are as follows:
Follow the seven Leave No Trace principles
Think before you geotag
Carpool when using busy roads
Respect our water
Adequately prepare for your trip
Support Local Organizations that are dedicated to protecting the Wasatch
While some locals become jaded towards newcomers over time, we at All Seasons Adventures believe that access to our world is a privilege everyone should be able to enjoy. The best line of defense is not exclusion, but rather education, outreach, and thoughtful interaction.