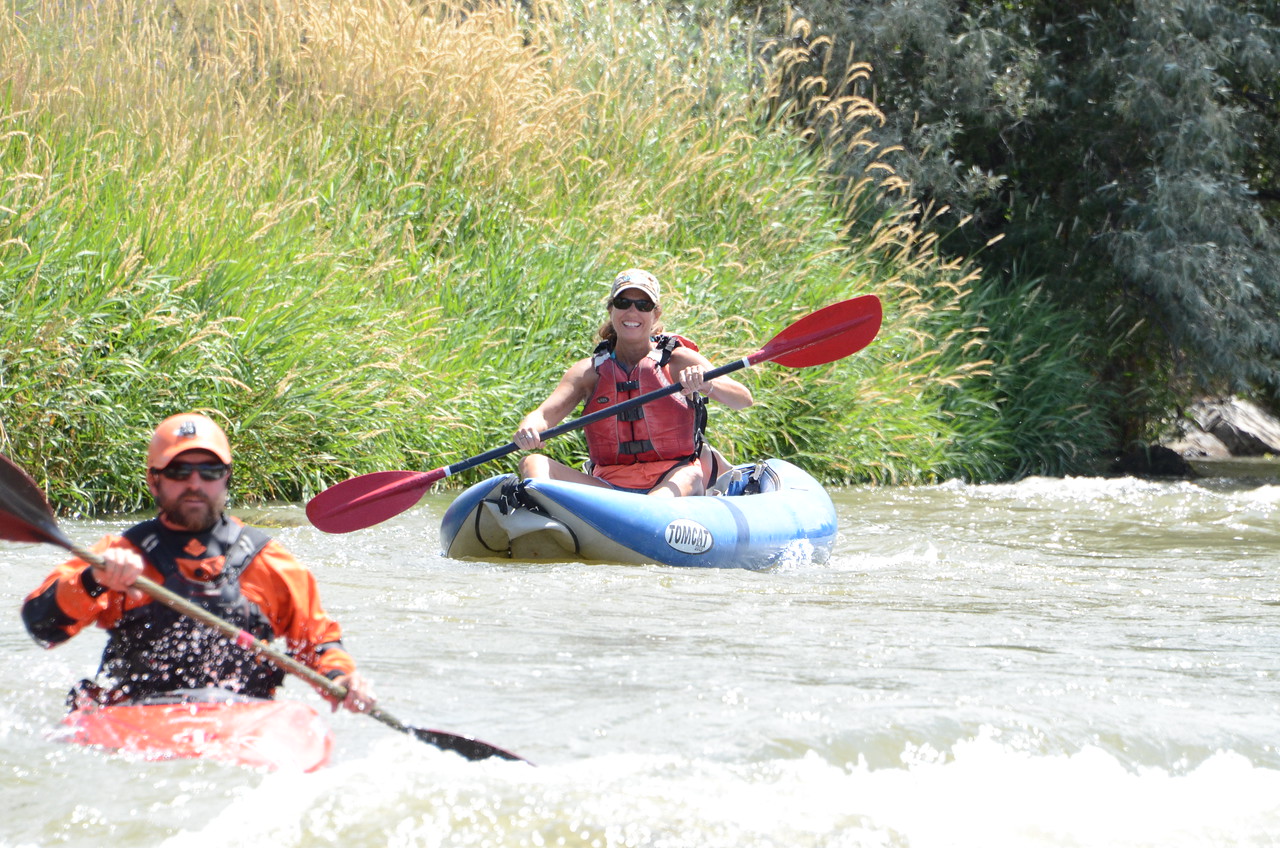 White water comes in all shapes and sizes and a scale of I to V classifies these swift waters. For those who are new to rafting here is how we classify the difficulty of the white water.
Class I:
Slow to fast moving water. Some small waves and ripples along the way. Not many obstructions and obstructions are easily visible.
*The lower Provo River south of Park City is a great example of this class of white water.*
Class II:
The rapids are larger than Class I. Standing waves up to three feet may be encountered. Maneuvering around objects may be necessary but not overly difficult.
*The middle Weber east of Park City is a technical and challenging example of this class of white water.*
Class III:
Moderately sized, irregular waves. Faster current and narrower passages. Large waves, obstructions, rocks can be easily avoided with precise maneuvering. Powerful currents and strong eddies.
*The Daily Run on the Snake River outside of Jackson Hole has some big features and is a fun example of this class of white water.*
Class IV:
Current is fast, rapids are long and difficult. Passages are constricted and may include unavoidable waves and holes. Scouting the rapid before is recommended to know the least consequential route.
*The Green River between the Gates of Lodore and Split Mountain in Colorado contains Class IV rapids.*
Class V:
Extremely long, complex and difficult. Waves are large and unavoidable. Drops, holes and steep chutes are common. Scouting is highly recommended and there is little room for error.
*The Upper Gauley in West Virginia is well known example of class V and predictable as the flows are dam controlled!*
What Class is Rafting on the Weber River?
Our beloved Weber River is Class II. While she might not hold the same level of adrenaline as larger whitewater, don't turn your nose up just yet!
The Mighty Weber is the most fun on a river you'll have in Northern Utah. Tight, technical, splashy and fun the 8.5 miles from Henefer to Taggarts is not to be missed. Fun for all ages, families arrive at our put in about 45 minutes from Park City. After gearing up in a NRS personal flotation device you will listen to a comprehensive safety speech. Groups will load into 13 foot Aire Super Puma rafts and the excitement begins with the first drop just around the bend.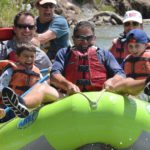 Multiple rapids follow and the fun just continues as groups navigate the perplexing rock garden. Your skilled guide will need your help to avoid rocks! A wide, slow stretch of river follows but don't relax just yet because a low head bridge is the next obstacle encountered. Most groups will be asked to get down into the boat with the bridge only a couple feet above your head. At high water we actually will portage this obstruction.
Next you'll encounter a big swim eddy that allows for a bit of swimming before the trip continues. Natural Arches and the Devil's Slide accent the canyon walls as you get ready for one more rapid. Splash through Taggarts rapid and this is where we take out. Lend a hand with the boats or enjoy the scenery before a quick shuttle ride back to the put in.
Come out rafting with us! It's the perfect way to spend about 2.5 hours on the river! Picnic lunches from Savoury Kitchen are available or you're welcome to bring your own. Professional, high quality photos are also available. We work with Kate Ray with Fall Line Photos or go old school and bring along a disposable waterproof camera.