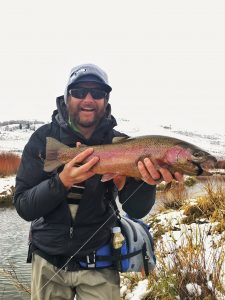 While summer weather is more accommodating to being in the elements let alone wading in a river, there are many upsides to winter fly fishing. Only the dedicated, avid angler ventures out after the last of the yellow leaves drop but the fishing is still productive. Trout need to eat year round and although they might be a little slow on the eat; winter is a great time to fly fish.
Having patience will pay off! Don't forget about warm layers as they are essential in winter fly fishing. Start with extra thick wool socks and even slip in a pair of foot warmers to keep those piggies nice and comfy. Insulated base layers, fleece, finger-less gloves and a warm hat will make a big difference. We love the Columbia Omi Heat series to keep us warm. By staying warm you'll be more apt to have the patience to tempt a slower moving trout found in deeper water.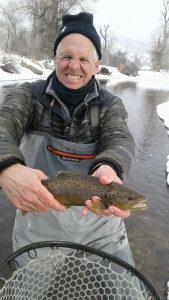 Tail waters are prevalent locally and are the go to winter option. These artificially created trout habitats are a haven for aquatic insects. Fairly constant water temperatures encourage aquatic insects to thrive and trout to be active regardless that it's December, January or February. It shouldn't come as a surprise that fishing in the winter is not only pleasurable but productive if you know which flies to choose.
Taking a gander into a fly box of a seasoned guide you might need to put on your reading glasses. Size 18-24 patterns are common and keep it simple. Midges and Baetis make up the majority of a trout's diet during the cold months. Many guides prefer dull colors in the winter. Patterns of black, brown, darker greens are popular, less dazzle and flash as well. Thinking outside the box on a tough day might be the factor that makes a good day of fishing a great day. Don't shy away from streamer fishing, hucking some meat can be rather productive. Again darker patterns with a slower, shorter strip could be the ticket to a trophy brown on a cold gray day!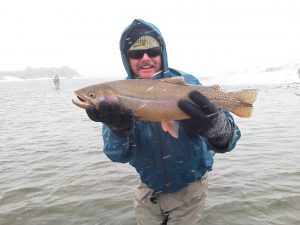 If you love to fish or have been curious about it, why not hire a guide to take out the guess work!? Our guides at All Seasons Adventures love what they do and will make you hungry for more! Be sure to dress warm and appreciate the tranquility that time on the river in winter brings.