If Park City wasn't already the most amazing place for your next vacation it just got even better. The World Cup will be here February 1st-10th
Be sure to check out the athletes as they compete in numerous events at Solitude, Park City, Canyons and Deer Valley.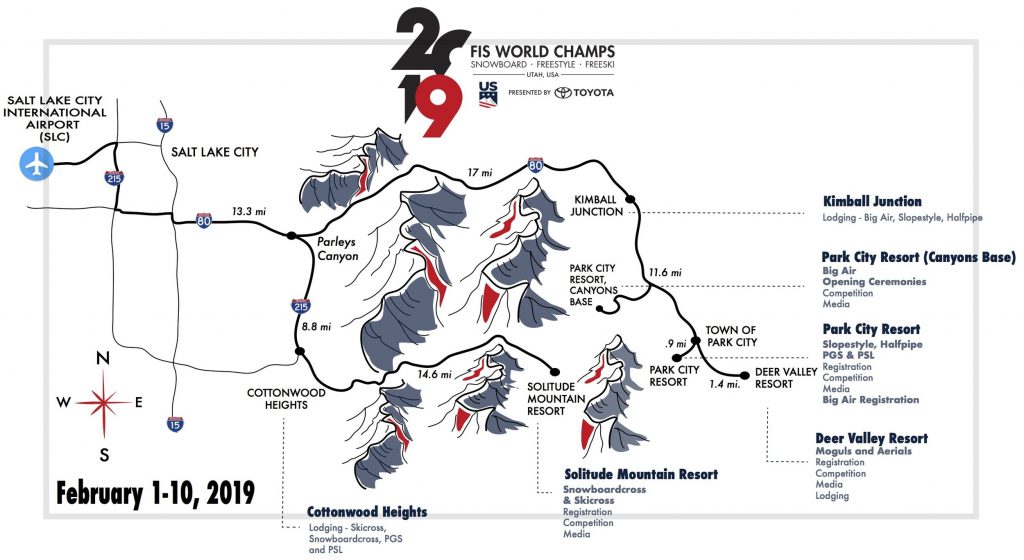 Venue – Solitude
Solitude – This charming resort is located in one of the snowiest canyons in North America, it will be hard to keep this a secret for long!
The Sports – Ski and Snowboardcross
Ski and Snowboardcross will take place on the same course at Solitude Mountain Resort with one obvious difference: Snowboardcross is for riders; Skicross is for skiers. Multiple athletes simultaneously race down the mountain using speed and skill. They will be challenged by cambered turns, various types of jumps, berms, rollers, drops as well as steep and flat sections. These are designed to challenge the riders' and skiers' ability to stay in control while maintaining maximum speed.
Venues – Park City Mountain Resort and Canyons Village at PCMR
Park City Mountain Resort and Canyons Village at PCMR – the largest resort in the United States, boasting more than 7,300 acres of terrain. We have experience with these large events:
2002 Olympic Winter Games
Eagle Halfpipe this was the Olympic debut of Snowboard Halfpipe
2009 and 2013 FIS Freestyle and Snowboard World Cup
2010 U.S. Grand Prix Snowboarding Finals and U.S. Olympic Team Naming
2011 FIS Freestyle World Championships
World Championships Ski Halfpipe at the 2011 World Championships
2014 U.S. Grand Prix Freeskiing Finals and U.S. Olympic Team Naming
The Sports – Freeskiing and Snowboarding , Slopestyle, Big Air, Parallel Snowboard Racing
The freeskiing and snowboarding halfpipe events will both take place on the 22 foot snow pipe in the heart of Park City. This thrilling event will showcase athletes jumping up to 24 feet above the lip of the pipe. Athletes are judged by their execution of tricks, variety of tricks, difficulty, pipe use and amplitude.
The slopestyle will have competitors ride and ski down a course with a variety of obstacles, including rails, jumps and other terrain features. It's like a snowy skate park! Amplitude, originality and quality of tricks will determine the accrued points.
Canyons Village at Park City Mountain Resort will host the Freeskiing Big Air and Snowboard Big Air. For the first time in history, of World Championships, Freeskiing Big Air will be included as a medal event.
Parallel Giant Slalom and Parallel Slalom was the first Olympic snowboarding competition. Competitors race on narrow boards with the riders' feet facing downhill on the mount. The competition is simple – first to the bottom wins!
Venue – Deer Valley
Deer Valley – With a bounty of 300 annual inches of natural Utah champagne powder, backed up by state-of-the-art snowmaking this is a true luxury skiing experience. Our quaint ski-only resort isn't new to the game and has hosted the following big events:
2002 Winter Olympic Games
2003 and 2011 World Championships
2000-2017 FIS Freestyle World Cup
2006, 2010, 2014 Olympic Freestyle Team namings
The Sports – Moguls and Aerials
Mogul Event: Oh bumps! These mogul events will make your knees cringe! Athletes compete on a heavily moguled course where they stress technical turns, aerial maneuvers and speed. In single moguls, one athlete competes at a time. Speed, two jumps and technique down the course is what they are judged on. During the dual mogul competition, two athletes race to the finish side-by-side. Athletes may compete up to four times during the evening as they advance to a new heat until the winner is left.
Aerials: Watch these athletes hit the jump and soar up to 70 feet in the air during the aerial competition. They will attempt to complete multiple flips and twists before landing on a 38 degree hill and may reach speeds up to 45 mph. Aerial skiing is a judged sport, and competitors receive a score based on 20% jump takeoff, 50% jump form and 30% landing.
If you really want to be part of the action volunteers are always needed. Find more information out about lending a hand at https://2019worldchamps.com/volunteer-faq/
Reach Out to the team at All Seasons Adventures if you are looking for other activities while you are in town!