One of the best ways to sit back and enjoy the summer beauty of Park City is on the back of a horse. Our horseback riding, ran through Red Pine Adventures, takes you winding through the mountainous terrain of Park City where you'll be sure to meander past alpine lakes, wildflowers, and maybe some wildlife too. We've compiled a list of our top tips to help you feel confident on your dream horseback ride.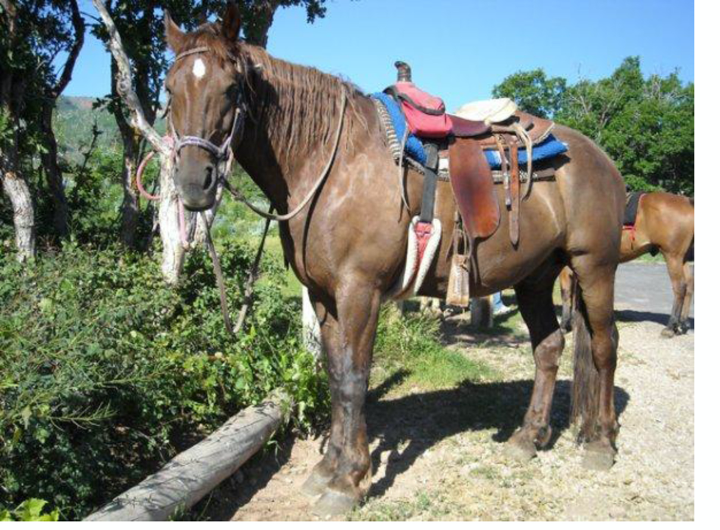 Always Mount a Horse From the Left
Horses are used to riders mounting and dis-mounting from the left, and will expect the same from you. Keep in mind if you're approaching a horse from the front, it's THEIR left, so when you're face to face you'll choose your right side.
Wear Shoes That Have a Bit of a Heel
It turns out cowboy boots serve a purpose for more than just traditional style! If you were to take a tumble on the horse, I think we all can agree it's much better to fall away from the horse than to be dragged behind it. When you wear completely flat shoes in the stirrups, it becomes more likely that your shoe, followed by your whole leg can fall through the stirrup keeping you attached to the horse, instead of falling away. The heel acts as a catch to keep your whole shoe from falling through.
Clothing Matters
Try to wear tighter fitting clothes and avoid bringing things like scarves or purses that could become entangled in the reins or stirrups. You'll want to wear pants and close toed shoes as well. Riding high up in the Utah mountains, clothing that offers sun protection wouldn't be a bad call either.
Keep your fingers and thumb curled down if you're giving the horse a snack
Fingers tend to look like carrots to horses, so it's best to curl your thumb behind your palm, and your other fingers back and down when presenting a horse with a tasty snack for a job well done.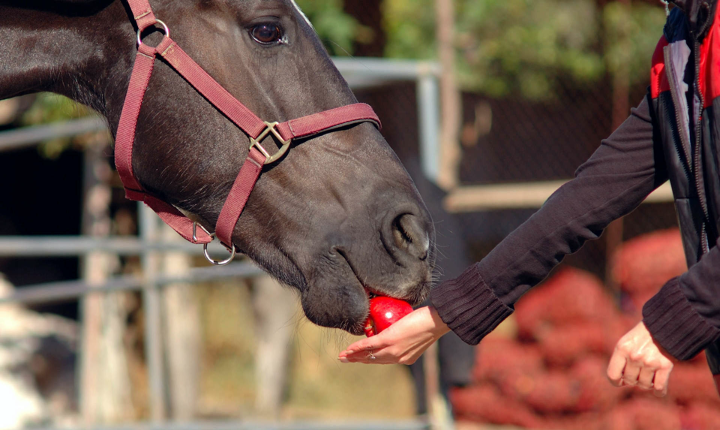 Make Your Presence Known
If you're approaching a horse from the back, make sure the horse knows you're there before you get within kicking distance. You can do this by greeting your horse. Additionally, if you need to pass around the back of the horse for any reason either make sure you're giving them a wide birth, or keep a hand rested them as you pass so they know what's going on.
Learn your horse's name and use it
Like dogs, horses know their names. Greeting a horse and using it when you give the horse a command will go a long way in establishing a connection with your horse.
Trust the horse
Horses are very sure footed and know how to walk these trails. However, they can also sense when you're being hesitant and it can confuse them. Showing your confidence in the horse will make your ride smoother and a lot more fun!
Look Where You're Going
When directing your horse, it's similar to driving a car. Sometimes you tend to steer towards where you're looking instead of where you want to go. If you look down at the horse instead of the trail ahead of you, there's more of a chance you might not see an obstacle in time to move the horse around it smoothly.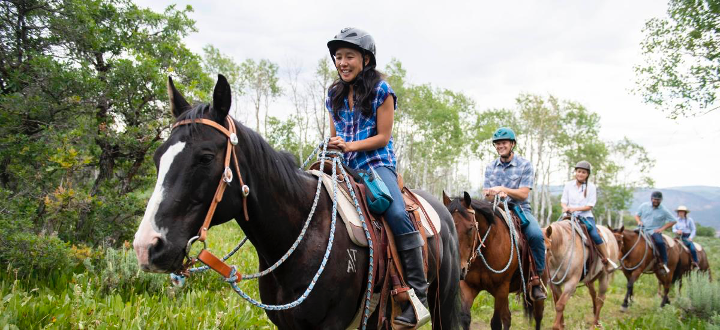 Watch your Head
Horses will never run their own heads into branches, so when horseback riding through the aspens and pine trees of Park City, you should lower your head to do the same! This way you'll null any risk of whacking your head unexpectedly on a branch your horse was able to clear.
Have fun!
Hopefully we don't need to explain this one to you. Although since you're on vacation in Park City, it seems you're off to a good start.
We work with Red Pine Adventures to offer more activities to our guests. Interested in booking a horseback riding tour? Call our office at 435-649-9619.