Park City Snowshoeing
Park City snowshoeing tours are an excellent activity for anyone! Whether you are looking for a scenic aerobic experience or just a peaceful walk in the woods, you will love snowshoeing. At All Seasons Adventures, our tours cater to families and corporate groups staying in or around Park City. Individuals six years old and older with any level of snowshoeing experience are welcome on our snowshoe tours.
Snowshoe tours can be leisurely, moderate or aerobic. When booking we ask what type of pace you prefer and put groups of two to five people together based upon the pace. Private tours can be arranged as well. Your guide will pick you up and drive you to the trailhead with water, snacks and a first aid kit. If you'd like to bring your own reusable water bottle, we'd be happy to carry that instead! At the trail you will be outfitted with waterproof overshoes, snowshoes and poles. Your guide will have room in their pack if you need to shed a layer too. Snowshoeing is a great option for anyone interested in experiencing the scenic Wasatch or Uinta Mountains.
Snowshoeing Photo Gallery
Local Two Hour Tour
Our most popular tour! We have a variety of trails in town we utilize that can accommodate beginners to those looking for a strenuous workout. It is two and half hours door to door, snowshoeing for about two hours. Tours are offered at 10am or 1:30pm.
Half Day Uinta Tour*
This half day tour will take you away from the hustle and bustle of town to the more relaxed and tranquil Uinta National Forest. All Seasons Adventures proudly operates on US Forest Service land under a special use permit managed by the Heber-Kamas ranger district. This tour is about four hours door to door, snowshoeing for about two and half hours. Be sure to ask your guide to stop at the Samak Smoke House for some tasty treats on your way back! Tours are offered at 9am or 1:30pm. There is a two person minimum, however we can reduce the price to a single person charge if another group wants to get out at the same time!
Moonlight Dinner Tour*
Having dinner at one of the Deer Valley restaurants, located at the Silver Lake or Empire Area? Let us snowshoe you to dinner! Enjoy an hour snowshoe under the moonlit winter sky before your meal. Tours will typically pick you up 90 minutes prior to your dinner reservation to drive you to the trailhead. It is important to note that ASA does not make dinner reservations or provide transportation after dinner.
Star Gazer Tour*
This tour will take you out into the star-blanketed forest to snowshoe for around two hours by moonlight. Tour times are customizable, normally picking up around dusk.
Snowshoe to S'mores Tour
A great apres ski activity for families with young children! Trips depart at 4:30, 5:30 and 6:30pm from lot five at Deer Valley. This hour long adventure includes a short snowshoe out to the Deer Valley Gazebo where two homemade s'mores, hot chocolate and a fire are waiting. Once everyone's enjoyed their s'mores you will snowshoe back to the parking lot. Tours need to be booked 48 hours in advanced to allow the bakery time to make the s'mores. This outing has a four person minimum.
All activities with an (*) have a two person minimum.
Private tours are available for our Local Two Hour Tour and Half Day Uinta Tour. Private tours have a 2 person minimum
What's Included / What to Bring
When you make a reservation with All Seasons Adventures, you can expect high-end equipment. We use Atlas Snow Shoe Company for the snowshoes and provide NEOS, CORDURA® overshoes that will cover your personal footwear and keep your feet dry! Adjustable trekking poles are provided for additional stability. Professional, knowledgeable, and fun guides will accompany you on every tour.  Your guide will have water and snacks for you in their backpack. If you'd like to bring your own reusable water we'd be happy to carry that instead!
We divide our trips by pace: leisurely, moderate and aerobic. The easiest way to break them down is by mileage. A leisurely tour typically travels about two miles in those two hours. A moderate tour goes three to four miles and aerobic tours cover five plus miles. Oftentimes we'll save tours with steeper and longer inclines for moderate and aerobic tours, while offering more level trails for leisurely and moderate.
Since all the equipment you will need is provided, you simply have to come dressed for the weather! With any winter sport, layering is the key to success. If you are a skier, we recommend wearing your ski gear, but if you aren't you might want to check out our blog! This has some great tips on how to prepare for your trip.
| Tour Options | Per Person Price |
| --- | --- |
| Local Snowshoe | $99 |
| Private Local Snowshoe /*2 person minimum | $155 |
| Uinta Half Day Snowshoe /*2 person minimum | $150 |
| Moonlight Dinner Snowshoe/*2 person minimum | $99 |
| Stargazer Snowshoe/*2 person minimum | $99 |
| S'mores Snowshoe/*4 person minimum | $45 |
Call to book if within 7 days of your desired activity or for Smores tours. Booking online is only available for reservations a week in advance. 435.649.9619
Searching Availability...
"I've taken three tours with All Season (one in December 2016 and two in December 2017) and every one has been fantastic! The guides are great, knowledgeable about wildlife and plants. I fell in love with snow shoeing after my first trip to Utah. Love their attention to detail and door to door service. I cannot wait to get back to Utah and book a tour again next December!"
– Karen
"This was such a fun day in the snow! Our guide, Craig, lead the three of us ladies on a wonderful 2 hour adventure. We chose the moderate level, which was challenging enough to make us sweat, but easy enough to really enjoy the experience. Craig did an excellent job leading and determining when a break was needed. I can't wait to do this again."
– Chufffree
We've been busy having fun this summer with guests, both old and new, but
Read More

→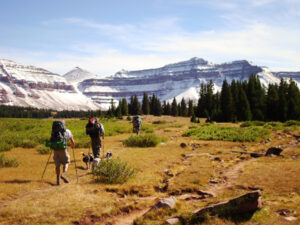 You were just on the adventure of a lifetime. You got the most amazing
Read More

→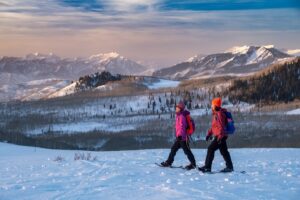 Are you looking for a laidback, chilly adventure? Snowshoeing is one of our favorite
Read More

→