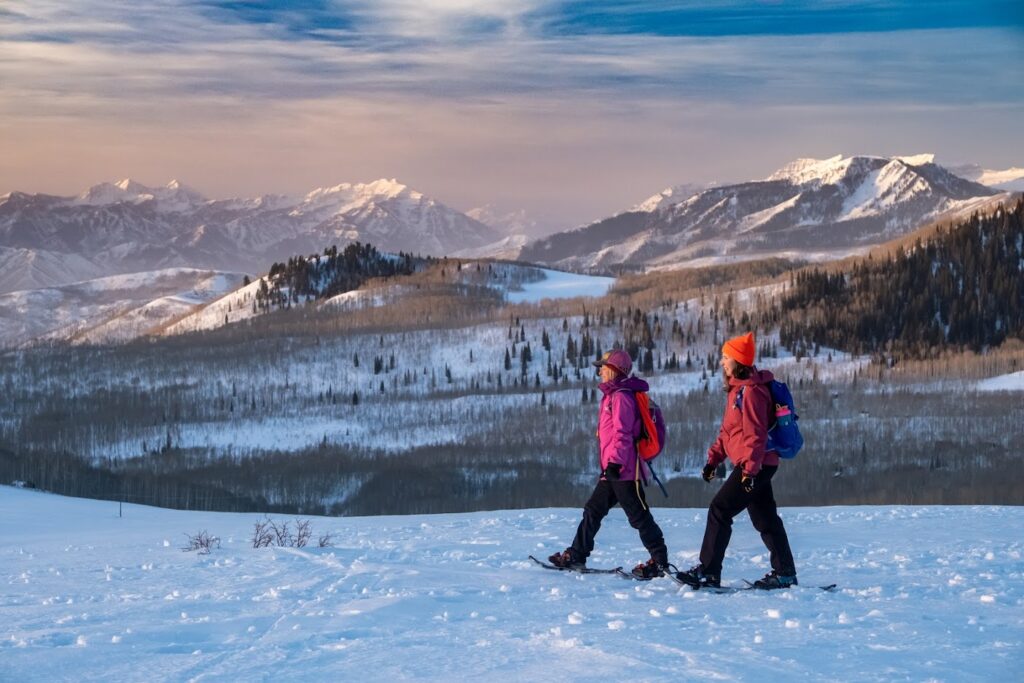 Are you looking for a laidback, chilly adventure? Snowshoeing is one of our favorite family friendly trips, and it should be yours too. With our top notch gear, gone are the days of dragging heavy, glorified tennis rackets through the snow. Our snowshoes make it possible to float lightly on top on even the freshest powder, and provide an experience nothing dissimilar of hiking. They come in several sizes, even children's! We have several guided snowshoe opportunities that we offer out guests. These different trips accommodate all abilities, and promise fun for your entire group.
Our most popular outing is the two hour local tour. This is optimal for large groups, as transportation is provided, and typically less than a five minute drive. Local tours take you into the hills surrounding Park City for beautiful vistas of the town, and the surrounding Wasatch mountains. You'll trek through both aspen groves and pine forests, and across the tops of the foothills. Another popular offering with All Seasons Adventures is our snowshoe to s'mores tour. This is a short jaunt through the bottom of Deer Valley's bowl, taking your group to a gazebo surrounded by frozen ponds. Your group will then be treated to Deer Valley's House s'mores (two per person), and will be welcome to hang out at the gazebo around the small fire for as long as needed. This trip is ideal for families with children who want to experience the adventure of snowshoeing, without a multi-mile commitment. Next are our stargazer trips– the regular stargazer is simply a nighttime excursion, often with a guide knowledgeable on astronomy and the stars. Our less known, but entirely enjoyable offering is snowshoe to dinner. This trip takes you through the foothills, ending at one of Deer Valley's Silver Lake or Empire Pass restaurants. Reservations at the restaurant must be made by the guest beforehand, and transportation from the restaurant afterwards.
From here, our last trip is possibly the most adventurous of the bunch- the four hour Uinta tour. This trip is for the guests looking for solitude and wilderness beauty. The excursion takes you about 45 minutes outside Park City into the beautiful Uinta range, the tallest mountains in Utah. Based on ability, you may spend the trip hiking along the mirror lake scenic byway, or for those wishing for more of a challenge, climb to alpine viewpoints.
No matter the adventure you choose for your group, we promise an engaging, fun time; guided by one of All Season's five star outdoorsmen. Book online or call today!