"You can discover more about a person in an hour of play than in a year of conversation" -Plato
16 years of experience has made All Seasons Adventures experts in corporate teambuilding activities. Park City is located only a half hour from an international airport and the outdoor recreation possibilities in the area are endless. Whether you looking at Park City mainly for meetings or as an incentive trip keep an open mind because teambuilding isn't all about trust falls and word games. We take pride in being able to customize team building activities for any size group, any objective for any group and keep each member interacting in the experience. GPS Adventure Races, Catapult building competitions and Basecamps are some of the most popular but we are always enthusiastic to create a new event to suit your group's needs.
GPS Adventure Race
Does your group have a timeframe of three hours and is looking for some serious competition? This activity is the perfect mix as teams' race around Park City to waypoints via GPS units with a designated end time. Once arriving at the waypoints teams work together to complete an activity and use group collaboration, cooperation and communication to receive as many points possible. Teams must report back by the designated time or they will receive point deductions for every minute they are late!
Catapult Competition
This activity has some flexibility and different options on how to customize it to fit your groups' team building needs. You can choose the base package catapult build and competition that typically lasts two hours. You can choose the catapult and tower build and then add on a little more competitive excitement with the addition of towers. Groups are provided with premade catapult pieces as well as wooden blocks. Teams must brainstorm the tallest and sturdiest tower that other groups will try and knock down. If you are looking to extend the activity we have a handful of teambuilding activities that can be integrated into the competition.
Basecamps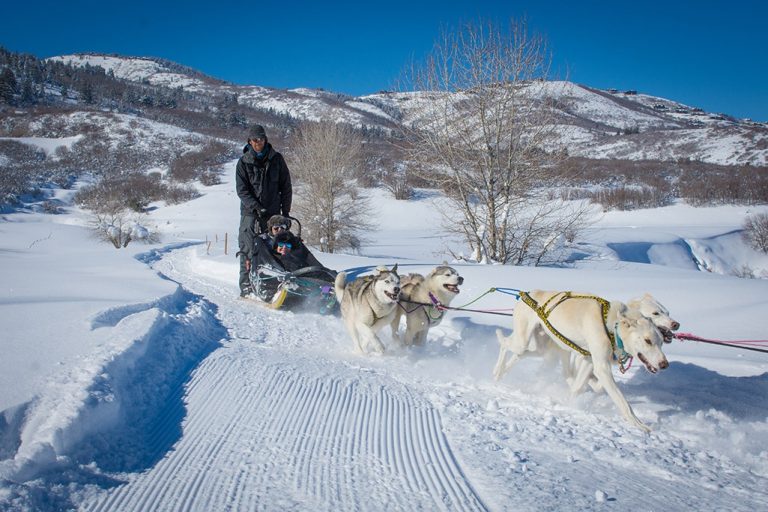 Come experience the beauty of Garff Ranch with a Basecamp experience. This 7,000 acre private ranch is only 10 minutes from downtown Park City. Several activities can be offered all in one area and include snowmobiling, dogsledding, snowshoeing and horse drawn sleigh rides. Some groups choose to reserve the entire ranch for a ½ day and your group has the opportunity to experience all of the offered activities. Some groups are able to accomplish all activities during their visit where as some people choose to sit back, relax and network. There is a large, warm rustic ranch building with an authentic wood burning stove where ideas and new concepts can blossom. If you would like to bring in a carter to offer meals this building is great for large groups.
Getting everyone together, out of the workplace and doing something new and physically engaging is also a wonderful way to work on teambuilding. Groups looking for something different have a variety of activities throughout the year to choose from. Many companies will offer their employees activities that fit into a two to three hour time frame.
Trap shooting
A classic western activity! No pigeons are harmed in this activity, clay pigeons are used, and don't think that only the men will like this. Women generally are equally if not more accurate. Pricing includes round trip transportation, private range, instruction, safety glasses, ear plugs and two boxes of shells. Timing is dependent on group size and typically lasts between one to two hours. There is a minimum of eight guests and we can accommodate a max of 22 guests.
Fly Fishing
The break room will be a buzzing after your group has the chance to experience fishing nationally recognized blue ribbon streams. Our experienced guides are equipped to cater to all ability levels of fisherperson. Small groups of up to three will spend about five hours door to door enjoying the river, catching fish and of course bragging rights to the largest or smallest fish caught. By getting your group out of the boardroom and into a new natural setting morale and team building are sure to ensue. ***As this activity is longer in duration ***
Mountain Biking
Park City is an up and coming mountain biking destination with 400+ miles of trails. We have a fresh, well maintained fleet of Scott Genius and Scott Contessa full suspension mountain bikes. Our mountain biking guides are ready to teach the basics or go out and get some serious single track riding in! Sweating with your coworkers will definitely help breakdown boundaries and the comradery and teambuilding nature of sharing experiences will be sure to be transferred into a productive workplace.
Hiking
Take a break from meetings and get into that fresh mountain air! We have a variety of different trail options in the Wasatch Mountains to accommodate all types of hikers. Our two to three hour long tours can be leisurely, moderate or aerobic paced. Seeing a moose for the first time with coworkers is an immediate icebreaker!
Snowshoeing
Many people who visit Park City Utah in winter aren't skiers. Snowshoeing might just be the perfect option and is especially popular for those with previous injuries or who just don't prefer the hustle and bustle of the slopes. Like our hiking tours we offer leisurely, moderate and aerobic paced snowshoe tours. Our friendly, professional guides pick up at your lodging, have all the gear you will need and share a snowy trail where you can enjoy a two hour stroll through a winter wonderland.
Dinner Sleigh Rides
Looking for dinner and a movie? This is our version that starts the evening with a 20 minute horse drawn sleigh ride through the snow covered Park City foothills and concludes with a home cooked Dutch-oven style dinner. Guests will enjoy dinner with warm peach cobbler and ice cream, live music and cowboy poetry in this rustic setting. Coworkers will have the chance to unwind and who knows maybe even a little informal teambuilding will happen?
To find out more about our teambuilding or discuss creating your own give us a call! 435-649-9619