Experiencing the Mighty Weber River can be a great family outing. This river is rated as a class II, the rating scale for river difficulty ranges from class I to class V, meaning the rapids on the Weber are a little mellower but this is not an amusement ride! We run 12 foot Aire Super Pumas paddle rafts on the most exciting 8.5 mile stretch of the lower Weber River. This technical class II stretch offers a challenging rock garden, a low bridge that must be run a particular way and dangerous highway pillars. On a hot summer day it can be tempting to head over to your local store and purchase a light-weight pool intertube however, in a split second, a fun afternoon in the sun can quickly become a scary and life threatening outing. All Seasons Adventures sees all kinds of users on the Weber on a busy weekend and would like to share a few key points to stay safe if you choose to be your own captain on the river.
Current:
As little as six inches of water can look calm on the surface but can have enough force to take your feet out from under you. A good rule of thumb is, when entering swift moving water, if the water is over your calf the water is too deep to cross unless you've been properly trained. Not only can you be swept downstream into strainers, pinned against manmade pillars and other hazards but foot entrapment also becomes a real danger. Foot entrapment occurs when you are walking in fast, deep water and your foot becomes lodged under the upstream side of a rock. As you lose your balance the extreme force of the river pins you in place causing you to fall face first into the water. Even with a personal floatation device (PFD) you may not be able to free yourself and rescue may not reach you in time.
Water Temperature:
The sun is shining, the air temperature is in the high 80s, maybe you've decided to have a few cold ones and suddenly out of nowhere your tube pops! Instantly you are no longer out of the 50* river water but submerged in it. Hypothermia can occur within a ½ hour. The weather conditions here can rapidly change and afternoon thunderstorms are not uncommon. A 10 minute cloud burst will pass quickly but leave you soaking wet, cold and quickly can become a serious matter.
Unpredictable:
This spring we had a somewhat rare even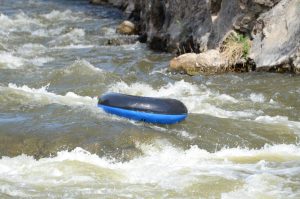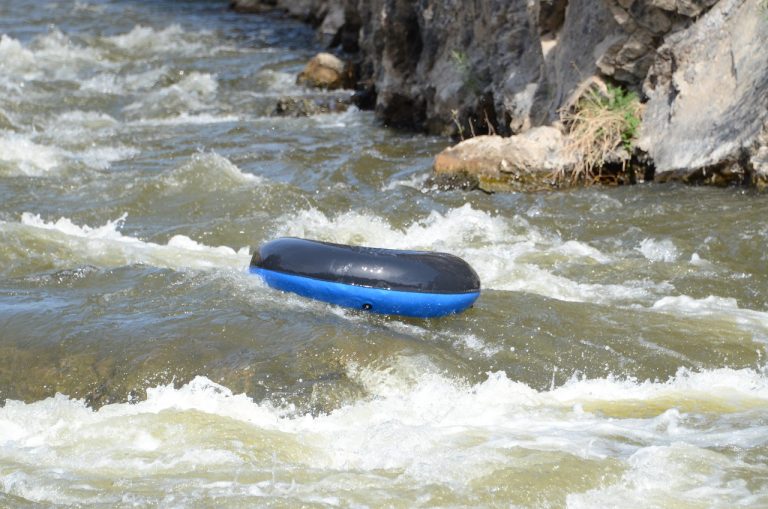 t with the Weber reaching over 1,000 CFS. The higher than normal volume of water caused movement of old cars in the river that can still be found from past erosion control efforts. It also created new strainers and completely altered the river channel in key places along the most popular tubing run. Play it safe and plan ahead. Wear a good shoe that will stay on your foot. An athletic sandal with a heel strap or a pair of tennis shoes that you don't mind getting wet offer protection for your feet and will make your walk back to the car much more enjoyable if your tube pops. PFDs are required by law and for a good reason as they will help you to properly maintain the whitewater swim position if you end up out of your tube in one of the rapid stretches.
Ultimately, invest in a proper whitewater river intertube if you're planning to float a whitewater river. Pool floaties, lightweight intertubes, inflatable mattresses or a blow up flamingo are all fun until they pop. If you are really serious about taking the family out look into an intertube designed for whitewater use, head to one of northern Utah's class I waterways or lakes, or head out on a guided rafting tour.
*Please note: No flamingos were injured during the course of its journey down the river.*