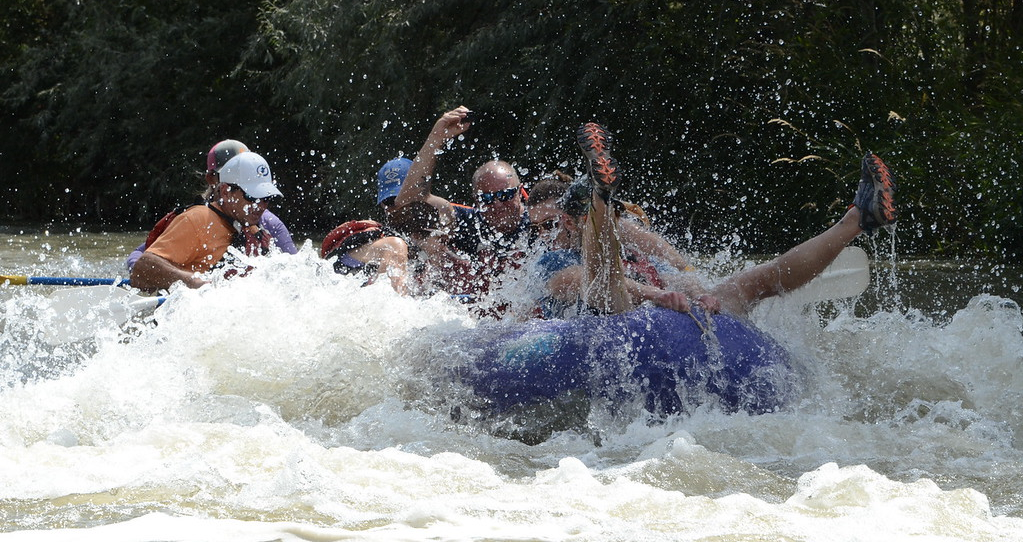 There is plenty of summer fun to be had here in Park City for groups of all sizes. Whether you are a corporate group of 100+ or a big family reunion, you have come to the right town. These 11 Park City group activities are sure to keep a big smile on everyone's face.
Corporate Groups vs. Casual Groups
If you've been tasked with planning your corporate conference or event, you may have your work cut out for you. But a corporate getaway doesn't have to be all work, right? An icebreaking or team building activity can be a great way for corporate groups to relax and have fun together. Our list includes activities that have been designed to accommodate groups of 8 to 100+ people and are appropriate for all activity levels.
Planning for all of this can become cumbersome, especially if you are coming in from out of town. With this in mind, its best to arrange activities with a local adventure guide. Plus, a guide will handle all logistics for you, so you can sit back and relax!
For more casual groups, there are all types of outings that will please the young and old. A Park City group activity might be just what you need after a few days of family fun and relaxation.
Instead of planning everything yourself, why not hand over the reins to a local guide and ease yourself into the vacation-zone? A guide can handle everyone in your group including rambunctious toddlers and even your grouchy great uncle.
1. GPS Adventure Races
A scavenger hunt at its best, old-fashioned clues are combined with high-tech GPS devices. This is a race that everyone can participate in. You could be trekking around on foot or racing from clue to clue in vehicles. Adventures typically last between 2-3 hours and can be customized to your group.
2. Team Building
In our busy world, we could all use a little more team building. Depending on your interests, a team building experience can be customized for your group. One of our favorite team building activities is a day on the mountainside practicing archery, trap shooting and navigation skills. It's a day to disconnect from your devices and reconnect with friends, family and colleagues.
3. Rafting the Weber
Make a splash with your group with a day rafting on the river. A guide will make it effortless for you by providing everyone with flotation devices, a boat, a guide, transportation to the river and even a delicious lunch. Rafting trips are suitable for children 4 and older. The local Weber River offers everything from Class ll rapids to mellow stretches of water that are perfect for sunbathing and spotting wildlife.
4. Trap Shooting
For a unique adventure, try trap shooting. Trap shooting is great for groups, especially those who like a little friendly competition. There is a rustic shooting range located just out of town where motorized traps shoot clay pigeons up into the air. A guide can set you up with all of the safety gear, guns and ammunition you may need.
5. Hiking
Hiking around Park City is the best! With a variety of trails there are so many route options to choose from. Waterfalls, historic mines, lift-assisted rides and trail heads within a stone's throw from town. Grab your group and a trail map (and a guide) and set out for a day of breathtaking views in the fresh air. We do recommend a guide for group hikes as not all trails around Park City are suitable for hiking or groups.
6. Water Sports
Utah might be one of the driest states in the country but you wouldn't know that from the shores of the Jordanelle Reservoir. Watercraft rentals are available here so you can try a half day of kayaking or paddle boarding in front of the beautiful backdrop of the Wasatch Mountains. If that doesn't get you wet enough, check out the inflatable water sports park, the Aqua Zone. The Aqua Zone can accommodate groups of up to 65. Call their reservation line to reserve a time and to get a group discount.
7. Farmers Market
Support local food producers AND grab a delicious lunch or early dinner at the Park City Farmers Market. Located at the Park City Mountain Resort every Wednesday from 12-5 pm, this is a great way to blend in with the locals. There are plenty of picnic tables for groups. However, there is not a lot of shade. Please wear plenty of sunscreen and a sturdy hat.
8. Outdoor Concerts
Another favorite summer group activity is the weekly community concerts throughout town. It seems that almost every night of the week in July and August, a group can catch an outdoor concert. Many of these are free and open to the public. If you've got a big group, it's a good idea to go early and stake out some amphitheater real estate with a few picnic blankets.
9. Park Silly Sunday Market
So, our Park City group activity list might be a little market heavy, but we don't have these markets in the winter, so its just fine to go to a couple each week! The Park Silly Sunday Market has something for everyone. There's a children's area, live music stage and tons of open-air vendors. The market happens almost every summer Sunday on Main Street. Just follow the great food smells straight to the food court.
10. Utah Olympic Park
If your group appreciates the "oohs" and "ahhhs" of high-flying adventure, then head to the Utah Olympic Park. Each Saturday and Sunday at 1:00 pm, the Flying Ace All-Stars Freestyle show has Olympian and National Team skiers and snowboarders performing a gravity-defying aerial show before splashing into the pool below. Perfect for groups, families or a weekend outing. If the show times don't seem to sync with your schedule, you can still enjoy the Olympic Park's museums and sneak a peak at extreme athletes in training.
There is the perfect summer activity for every group in Park City. Don't let the sun set on your summer without enjoying one of these activities soon.