Mother Nature might be in charge of the weather, but here in Park City we write our own script when it comes to adventure. Alpine and cross-country skiing certainly top most people's list when it comes to exciting winter fun. But those activities aren't for everyone. Whether it's a deep powder day or the last storm seems like a distant memory, there's plenty adventure to be had in Park City besides ski.
Outdoor Activities Good in Low Snow Conditions
Snow Hiking
Snow hiking is a great way to see the sites and get in a good workout in low snow conditions. There is a trail for everyone as you decide whether you want an aerobic hill climbing experience or more of a picturesque stroll. Put on some sturdy shoes and sun screen and hit the trail. Even with a sparse snow pack, the trail conditions can get surprisingly icy. With a snow hiking tour from All Seasons, we equip you with a pair of traction cleats (YakTrax) and trekking poles. Your guide will also have waterproof overshoes for those who forgot boots, snacks and water. This offering is not on our site, so contact us for info.
Snowshoeing
The benefits of snowshoeing are plentiful. For the most part, snowshoeing is similar to snow hiking in that the only skill that is required is the ability to walk. However, the best part about snowshoeing on snow is that there is little to no impact on your joints, so you are getting great exercise without your knees getting sore. Some people like to use poles for stability and that will help with your balance. Make it a real adventure with our stargazing snowshoe tour, or work up an appetite with a snowshoe dinner tour.
Winter fly fishing
Why not fly fish in the winter? Simply wear some waders over your snow clothes and head to the river. We suggest waiting until at least mid morning so the temps can warm up a bit. The best part of winter fly fishing is the solitude as very few anglers take advantage of the winter season.
Trap shooting
Put a bang in your winter adventure with trap shooting. We can help with all of the transportation, safety gear and ammunition. 12 gauge shot guns are provided. Trap shooting is really the most fun with a bunch of friends; start a friendly competition and we will keep score.
Adventure Races
Adventure races are a blast and they are a great way to learn your way around the nooks and crannies of Park City. These races are designed for teams to compete against each other in a modified scavenger hunt. Old fashioned clues and high-tech GPS tracking devices will guide your hunt.
Outdoor Activities in Good Snow Conditions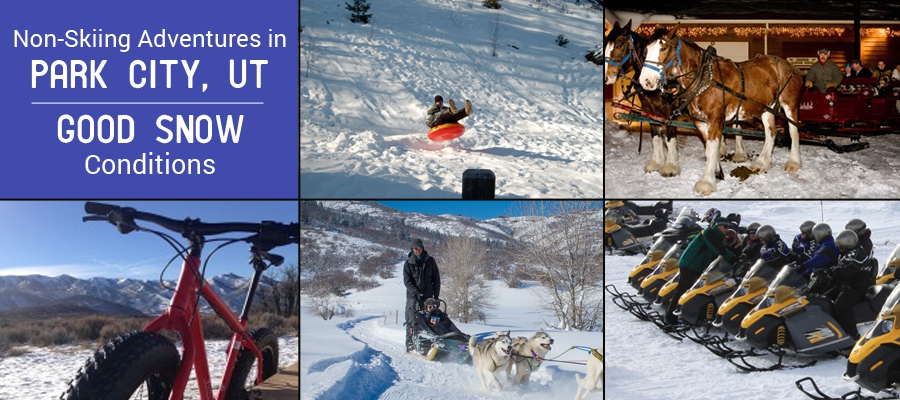 Snow tubing
We take tubing to a new level here in Park City. With rope-tows and magic carpet lifts, all you have to do is bundle-up and plunk down in a cushy tube. Screams of delight are encouraged. Soldier Hollow offers the longest runs at 1,200 feet of fun, and Gorgoza Park is a great tubing spot, too.
Sleigh rides
What is more idyllic than a winter sleigh ride? Tour through a private ranch on an old-fashioned sleigh pulled by two draft horses. The view of the stars at night on the glistening snow is winter adventure at its best.
Fat biking
The latest and greatest winter adventure is fat biking. Cruise on the snow with a fat tire bike, get a great workout and breathe in the fresh mountain air. Tours are about 1.5 hours and include a rental bike, helmet, transportation, water and snack.
Dog Sledding
Make your friends green with envy when they hear you went dog sledding. Explore snow-covered meadows in the Wasatch and Uinta Mountain ranges from a dogsled pulled by a team of Huskies. You will get to "learn the ropes" and meet this incredible team of sled dogs.
Snowmobiling
Thrill seekers won't be disappointed on a snowmobiling tour. Our fleet of top-of-the-line snowmobiles are the perfect snow vehicles when you have a need for speed. We take care of the guides, transportation to a private ranch and helmets. Powder suits and boots are available.
Winter Indoor Activities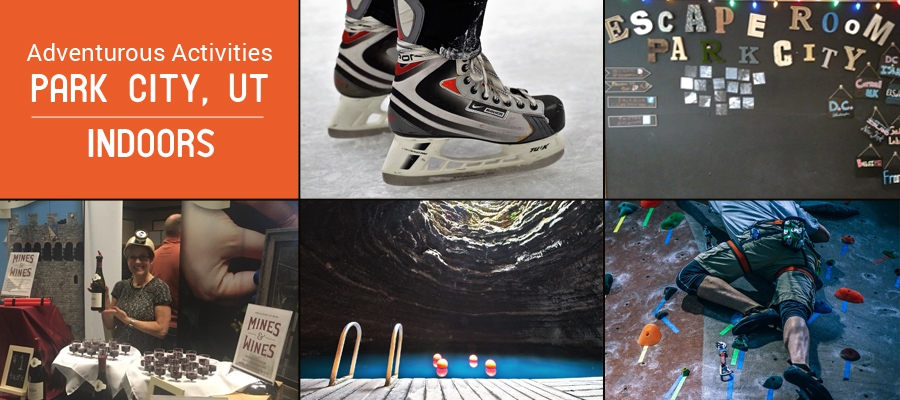 Ice skating
It might take a lot of balance and coordination, but a day spent ice-skating can't be beat. Whether you favor the groovy lighting of Cosmic Skate at the Park City Ice Arena or prefer an outdoor experience surrounded by snowcapped mountains (Park City Mountain Resort), lace up your skates and get ready to glide. For a unique adventure, you can learn to curl with the Park City Curling Club.
Escape room
It is difficult to describe the Escape Room. Part interactive puzzle experience, part choose-your-own adventure, each escape room is one-of-a kind. Participants are presented with a challenge that they have to employ smarts, wits and skills to escape.
Mines & Wines Tour
This 3-hour tour is only offered in the winter and includes visiting 5 historic mines in Park City. The extra adventurous part of this tour is that each mine visit is paired with a specially selected wine. The tour starts and ends at the Montage Deer Valley with luxury transportation and light snacks provided.
Crater Hot Springs
Utah has the only warm-water scuba diving destination in the country. The Crater at the Homestead Resort stays 90-96 degrees Fahrenheit at all times while a hole at the top naturally lets in sunlight and fresh air. Besides scuba, there is snorkeling, soaking, paddle board yoga and simply touring the site. Reservations are required so please check the website or call ahead.
Bouldering
Bouldering is rock climbing without the restrictions of ropes. The Mine Bouldering Gym offers 4,000 square feet of climbing walls that can be enjoyed by people of all ages and all climbing levels. All floors are covered with pads that provide a soft landing. The PC Marc also offers a Bouldering area.
With lots, little or no snow, the picturesque town of Park City remains a very adventurous winter destination. This list certainly is not exhaustive. Feel free to reach out to us for even more ideas. Even if you aren't booking a tour with us, we want your time in Park City to be adventurous and enjoyable!