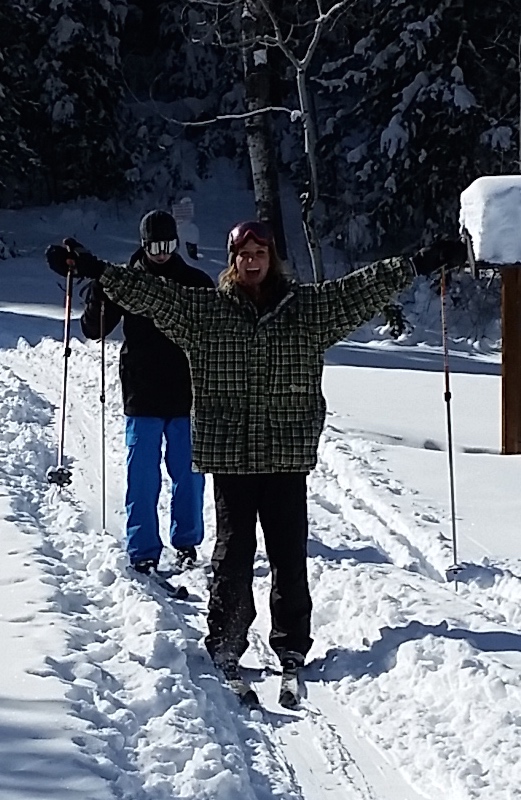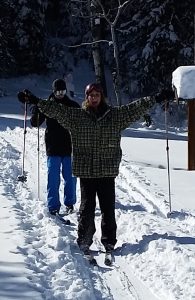 When there is three feet of snow covering the trail there is no need to stay inside. The team at All Seasons Adventures would love to take you out for a cross country ski adventure. Your helpful guide will assist you in learning the ropes or polishing up on your skills in this fun winter activity.
Slip into a comfortable cross country ski boot, a warm set of breathable layers, a hat, and some gloves. Forget the long lines, the cold ride on the lift, and the crowds. After a scenic 30 minute drive to the Mirror Lake Highway you will arrive at the Beaver Creek Trail in the high Uinta wilderness within the Wasatch National Forest. The Uintas are a unique mountain range as they run in an East to West orientation and are accented by numerous lakes created thousands of years ago by glaciers. Miles of groomed and ungroomed trails for beginners to the most adventurous skier can be found. Once we've arrived at the trailhead all you have to do is press your toe into the binding of the lightweight cross country ski, grab your poles and go.
The biggest difference between alpine/downhill and cross country skiing is the equipment. Cross country skis were first recorded by people on cave walls over 4,500 years ago. Over the years technology as well as function has changed the cross country ski from mere wooden planks that strapped to your foot, solely for travel, into three main genres including skate, traditional and backcountry nordic.
We are all about making great memories so we specialize in a backcountry nordic experience. The gear is heavier duty than the lightweight race gear used at the Park City Municipal Golf Course or at the Farm. Our skis have metal edges, a waxless base, a heavy duty BC binding and are much more forgiving than super skinny skate skis. The technique is very similar to skate skiing or traditional cross country; kick, glide, kick, glide, however, we can go into untouched snow or ski on the groomed trail with ease.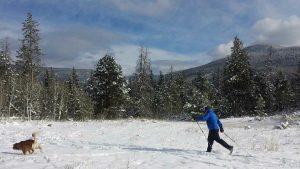 Cross country skiing is great because previous ski experience can be helpful but is completely unnecessary as the equipment is much different. Many people with knee injuries find this activity a great alternative because it lacks the hard jarring turning of downhill skiing and the heavy cumbersome boots.
If you enjoy getting away from the hustle and bustle of town or just want to learn a new sport give us a call we would love to get you out onto the snow.