Our Hiking Trips
We offer a wide variety of hikes in different locations within 1 hour of the Park City area to facilitate whatever adventure your group is looking for! Tours span from 2.5 – 5 hours door-to-door depending on your specific adventure where you can experience anywhere from a leisurely walk in the woods, to the aerobic adventure up a mountain that you've been looking for!
Before Your Trip
We will want to make sure you fill out a liability waiver for each participant, which you will find attached to your reservation under the blue "View Required Documents" button. Otherwise we simply need to know what pace you'd like to walk at, and which destination you'd like to go to.
Local:
Please expect to be gone for about 2.5 hours door-to-door. We have a plethora of trails around town that offer views of Aspen groves, wildflowers, macro views of the mountains, and even some old mining relics. If you are looking to hear about or see anything in particular, let your guide know at pickup!
Uinta:
Please be prepared to be gone for about 4-5 hours door-to-door. The Uinta mountains are typically a bit colder than town, so bring layering options with you as well. The drive will be about 1-1.5 hours each direction, to get you to more solitary trails. If you are interested, there is a smokehouse we can stop at on either the way out or back from your trip for any snacks or lunch items. If you're interested simply let your guide know you'd like to stop when they pick you up! Make sure to bring your own card as this is not included in our trip.
Stewart Falls:
For those curious to venture down to Sundance Resort, south of Park City, this hike offers a scenic lift ride and a hike to a beautiful waterfall beneath a glacial bed. Be prepared for a 45 minute drive each direction. Some groups enjoy having lunch down at Sundance before returning back to town. Be sure to let your guide know if that is something you are interested in, as well as bring your own card, as this is not included in our trip. Depending on the day the guide may not be able to accommodate the extra time for lunch as they or the vehicle may be required back in Park City for a later trip.
Lift-Served Hiking:
Ride the same chairlift you ride in January, but to access Park City's wonderful hiking trails instead. After taking in the sights up high, you can either be hiking back to the base, or riding the Alpine Slide, depending on the tour you signed up for. Although you will have filled out our waiver before hand we will still need to stand in line at Park City to purchase tickets and have you fill out their separate waiver as well. As a result, please allow for an extra ten minutes of preparation before we get out on the trail! (Keep in mind, if you are opting for the Alpine Slide there could be a line at the top of the slide we may have to wait in.)
Birding Tours
Enjoy a local or Uinta hike while seeking the amazing birds that call Utah home, and other various migrating species. Some of the unique birds to the region that could potentially be found are Gray Jay, Western Tanager, Pine Grosbeak, Stellar Jay, Ruffed and Dusky Grouse, American Three-toed Woodpecker, Mountain Chickadee, Olive-sided Flycatcher, Red Crossbill, Northern Goshawk, Swainson's and Red-tailed Hawks and even the seasonal Flammulated Owl. Tours pick up either 30 minutes before sunrise for the morning option, or around 5 – 5:30pm depending on your destination for the evening option. Tours will include head lamps if needed, binoculars, field book, and everything else included in a hike. If you do have specific goals, or a specific bird you're looking to see, let us know! Nate will be in touch prior to the trip as well with a concrete plan of your adventure to help you best accomplish those goals!
FAQS
What's Included?
When your guide picks you up they will have walking poles, water, granola bars, and a cooler with soda and other light snacks.
What Do I Wear?
The weather in the mountains can at times be unpredictable. As a result, it's good to always have a rain jacket on hand just in case. Otherwise dressing for the weather with light layers, hats and sunglasses will be perfect!
What Should I Bring?
Besides coming dressed for the weather, we will handle everything else! We do recommend bringing sunglasses and sunscreen! Be sure to bring your card along if you are doing the Uintas or Stewart Falls trips and are interested at grabbing a snack or lunch at either of the food options available with those locations.
What Pace Should I Do?
Please review the chart below, for any questions you have about our different paces. If you'd like to revise the speed you've signed up for after reading it over simply shoot us an email or give our office a call and we can update that for you!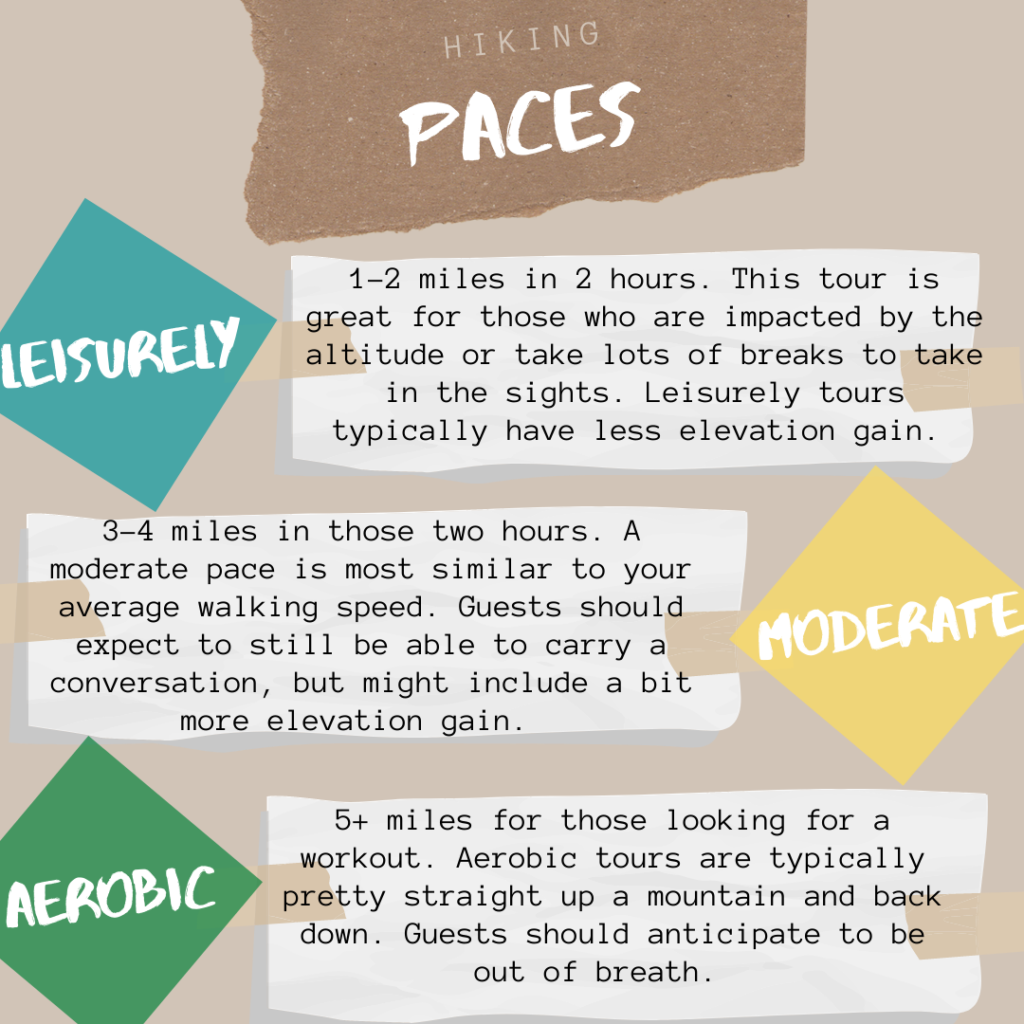 Doing Another Adventure with us? Learn about it here: