What is Snowshoeing?
Snowshoeing is a great way for those newer to winter sports, or with previous injuries prohibiting them from skiing to get out and enjoy the mountains in the colder months! Snowshoes are large platforms which can strap onto your shoe with teeth under your toes to help give you stability, they allow you to walk on top of snow spreading your weight out over a bigger surface. On a snowshoeing trip we equip you with snowshoes and take you for a two – two and a half hour stroll through the mountains to take in the scenery. We divide trips by pace of leisurely, moderate or aerobic and offer trips around Park City or out in the Uinta National Forest.
Before Your Trip
Prior to your trip the most important thing we need from you is everyone's shoe size. We will also need a liability waiver for each participant, which you will find attached to your reservation under the blue "View Required Documents" button. Otherwise we simply need to know what pace you'd like to walk at, and which destination you'd like to go to.
Local Tours (Including Stargazer Snowshoes):
Please expect to be gone about 2.5 hours door-to-door. If you've signed up for our public option be prepared to make some new friends who would like to hike a similar pace as you! We have a plethora of trails around town that offers views through Aspen groves, macro views of the ski resorts and even some old mining relics. If you are looking to hear about or see anything in particular, let your guide know at the time of pickup!
Uinta Tours:
Please be prepared to be gone for about 4-5 hours door-to-door. The Uinta mountains are typically a bit colder than town, so bring layering options with you as well. The drive will be about an hour both directions to get you to more solitary trails. If you are interested, there is a smokehouse we can stop at on either the way out or back from your trip for any snacks or lunch items. If you're interested simply let your guide know you'd like to stop when they pick you up! Make sure to bring your own card as this is not included in our trip.
Snowshoe to Smores
We cater our smores tours towards families with young children, but that doesn't mean it is exclusively for them! The snowshoe portion is about 5-10 minutes each direction depending on child's ages. As a result the emphasis is really more on making smores and drinking hot chocolate while you all get to unwind after a day of fun around the fire. The trip lasts one hour in total after you meet us in the back parking lot of Deer Valley. Smores are homemade by the Deer Valley bakery.
Moonlight Dinner Snowshoe
This trip is a one hour excursion across the Deer Valley slopes for those who have an existing dinner reservation at a restaurant in the Empire or Silver Lake areas of Deer Valley. It is critical that your dinner reservation is for 6:30pm or later to ensure we are not snowshoeing across the resort while they are still trying to close down for the day. We'll need to know the name of the restaurant and where we're going to pick you up from prior to your trip. Please be aware that your guide will not be sticking around to drive you home after dinner so please ensure you have a ride of your own, or we can pick you up from the restaurant to ensure your car is waiting for you at the end of the night.
FAQs
What is Included?
When your guide picks you up, they will have snowshoes, waterproof shoe covers, walking poles, water, and some light snacks like granola bars and/or chips. For smores tour, your guide will also have the smores, hot chocolate, and all utensils necessary to assemble and enjoy these items.
What Do I Wear?
Merino wool is a great base layer material that can regulate your body temperature. Anything wind/waterproof such as snow pants and a jacket are great for outerwear as well. Additional layers should be added as needed, but please keep in mind you will warm up as you hike and you do not want your sweat to freeze, be bold and start cold! Hats, gloves and sunglasses are great to have with you as well. If you have snow boots those work best for snowshoes. If you do not, please wear whatever shoes you will be most comfortable walking in for two hours, if they are not waterproof your guide will have shoe covers you can slip on over them!
What Should I Bring?
Extra layers are never a bad idea to bring along, and you can leave them in the vehicle if needed. Your guide will have a backpack for your water and may have extra room for a layer or two as well. If you'd like any snacks or treats besides granola bars you are more than welcome to bring that as well.
What Pace Should I Do?
Please review the chart below, for any questions you have about our different paces. If you'd like to revise the speed you've signed up for after reading it over simply shoot us an email or give our office a call and we can update that for you!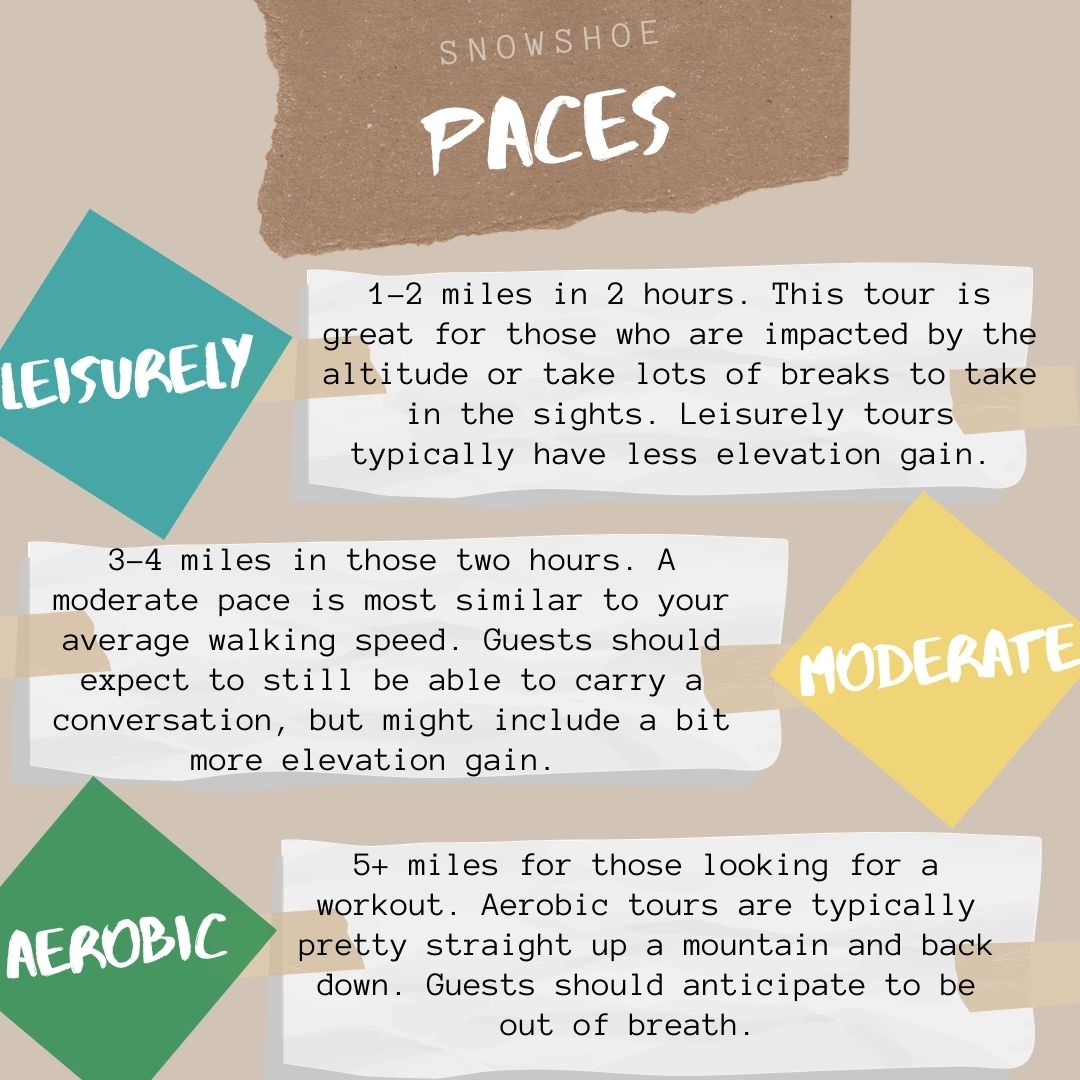 Doing Another Activity With Us? Learn About it Here